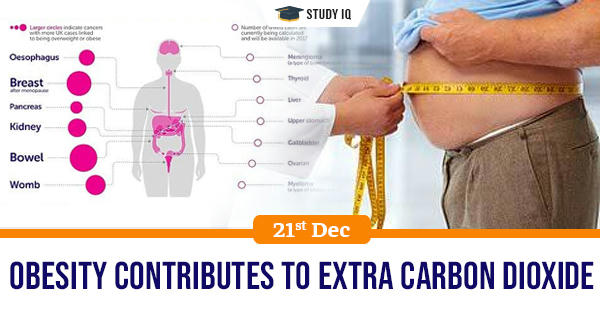 Obesity contributes to extra carbon dioxide
Date: 21 December 2019
Tags: Miscellaneous
Issue
Research from The Obesity Society has revealed that obese people account for about 1.6 per cent of all man-made greenhouse gas emissions.
Background
The society used greenhouse gas emission data, demographic data, and obesity prevalence statistics to estimate that obesity is responsible for 20 per cent more greenhouse gas emissions compared with people of a normal weight.
Details
This is due to a combination of higher metabolic rates and the environmental impact of both producing the food and the increased fuel required to transport obese people, according to the researchers.

Obesity has previously been linked to higher oxidative metabolism, the set of chemical reactions in our cells that use oxygen to convert food to energy.

Total carbon dioxide production from any species is linked to average metabolic rate, average body size and the total number of individuals of the species.

Increasing average body size of people on Earth may further challenge attempts to reduce man-made carbon dioxide emissions.

Compared with an individual with normal weight, obese people were found to produce an extra 81kg per year of carbon dioxide emissions from higher metabolism, an extra 593kg per year from greater food and drink consumption and an extra 476kg per year from car and air transportation.

Energy requirements of humankind, and subsequently worldwide food demand, are now expected to increase not only because of a growing population but also due to the increasing body weight generally, creating a vicious cycle where food production will go up.

Meanwhile, transportation of heavier people is associated with increased production of fossil fuels, resulting in more carbon dioxide emissions from food production and transportation.
Obesity and its effect
Obesity is when the body has too much fat. Obesity can cause a lot of damage to the body. People with severe obesity are more likely to have other diseases. These include type 2 diabetes, high blood pressure, sleep apnea, and many more.