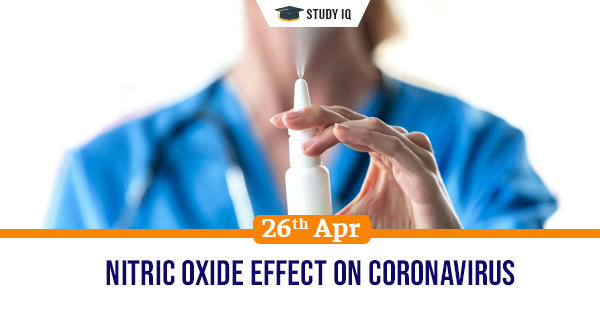 Nitric oxide effect on coronavirus
Date: 26 April 2021
Tags: Miscellaneous
Issue
A multinational study has provided results of a trial that says that nitric oxide nasal spray can be an effective treatment to viral disease.
Background
Scientists have not been able to identify a specific drug to control Covid-19 that has caused widespread mortality. The new study tries to address the shortcomings.
Details
Nitric oxide has been found effective against microbes such as fungi, helminths, bacteria, protozoa and viruses.

Scientists studied the vitro antiviral effect of Nitric oxide on SARS-CoV-2 so that it can be used for treatment against Covid-19.
The spray
The spray will release a small amount of Nitric oxide inside the nasal cavity and kill any type of virus including SARS-CoV-2. The drug is non-specific in nature.

The study showed average reduction of viral load by about 95% in the first 24 hours. This reduction increases to 99% in next 72 hours.

The treatment is a post-exposure method and kills virus in nasal airways by preventing their movement towards lungs.

There has been instance of people using the spray immediately after small symptoms appear and prevent the infection from enhancing.