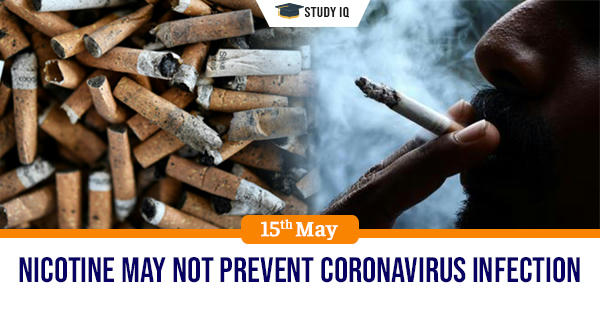 Nicotine may not prevent Coronavirus infection
Date: 15 May 2020
Tags: Miscellaneous
Issue
World Health Organisation has issued a statement saying there is insufficient evidence to confirm any link between tobacco and nicotine for prevention or treatment of COVID-19.
Background
A review of studies by public health experts convened by the WHO had found that smokers are more likely to develop severe disease with COVID-19, compared to non-smokers.
Details
COVID-19 is an infectious disease that primarily attacks the lungs. Smoking impairs lung function making it harder for the body to fight off coronaviruses and other diseases. Available research suggests that smokers are at higher risk of developing severe disease and death.

The statement from WHO comes in the wake of a paper published by French researchers who hypothesise that novel coronavirus binds to nicotinic acetylcholine receptor (nAChR) to cause infection.

The binding of coronavirus to nAChR receptors proposed by the authors contradicts the current understanding that the virus enters the cells by binding to receptors called the angiotensin converting enzyme 2 (ACE2).

The hypothesis is that nicotine, which is already present in the body of smokers, binds to the nAChR receptor thus preventing the novel coronavirus from binding to the receptors thereby preventing infection.

According to them, current smoking status appears to be a protective factor against the infection by coronavirus; people who smoke are 80% less likely to get infected by coronavirus than non-smokers of the same age and sex.

French researchers are about to launch a human trial to test their hypothesis that nicotine reduces coronavirus infection. The trial will involve healthcare workers and patients wearing nicotine patches or a dummy. The trail will investigate whether those wearing nicotine patches are able to stay infection-free.