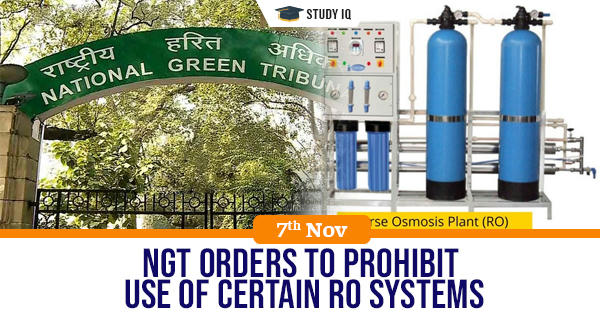 NGT orders to prohibit use of certain RO systems
Date: 07 November 2019
Tags: Miscellaneous
Issue
The National Green Tribunal (NGT) has given an ultimatum to the Union Environment Ministry to issue notifications pertaining to prohibition on the use of RO (reverse osmosis) systems, which result in wastage of almost 80% of water.
Background
The NGT was referring to an order passed by it in May this year where it had directed the use of RO on the condition of recovery of water to the extent of more than 60%.
Details
The Bench had ordered the Environment Ministry to issue appropriate notification prohibiting the use of RO where Total Dissolved Solids in water is less than 500 mg/l.

It also said that provision must be laid down for recovery of water up to 75% and use of such RO reject water for purposes such as utensil washing, flushing, gardening, cleaning of vehicles and mopping.

In response the Ministry had asked the CPCB to frame a holistic policy for use of RO technology and submit a draft notification, which has not yet been done.
National Green Tribunal (NGT)
National Green Tribunal Act, 2010 is an Act of the Parliament of India which enables creation of a special tribunal to handle the expeditious disposal of the cases pertaining to environmental issues.

The stated objective of the Central Government was to provide a specialized forum for effective and speedy disposal of cases pertaining to environment protection, conservation of forests and for seeking compensation for damages caused to people or property due to violation of environmental laws or conditions specified while granting permissions.

The NGT has been established in the National Capital – New Delhi, with regional benches in Pune (Western Zone Bench), Bhopal (Central Zone Bench), Chennai (Southern Bench) and Kolkata (Eastern Bench).
Structure
The Chairperson of the NGT is a retired Judge of the Supreme Court. Other Judicial members are retired Judges of High Courts.

Each bench of the NGT will comprise of at least one Judicial Member and one Expert Member.

Expert members should have a professional qualification and a minimum of 15 years experience in the field of environment/forest conservation and related subjects.
Jurisdiction
The NGT has the power to hear all civil cases relating to environmental issues and questions that are linked to the implementation of laws listed in Schedule I of the NGT Act. These include the following:
The Water (Prevention and Control of Pollution) Act, 1974;

The Water (Prevention and Control of Pollution) Cess Act, 1977;

The Forest (Conservation) Act, 1980;

The Air (Prevention and Control of Pollution) Act, 1981;

The Environment (Protection) Act, 1986;

The Public Liability Insurance Act, 1991;

The Biological Diversity Act, 2002.
Reverse Osmosis
Reverse Osmosis (RO) is a special type of filtration that uses a semi-permeable, thin membrane with pores small enough to pass pure water through while rejecting larger molecules such as dissolved salts (ions) and other impurities such as bacteria.

Reverse osmosis is used to produce highly purified water for drinking water systems, industrial boilers, food and beverage processing, cosmetics, pharmaceutical production, seawater desalination, and many other applications.
Working
RO works by reversing the principle of osmosis, the natural tendency of water with dissolved salts to flow through a membrane from lower to higher salt concentration.

The rejected salts and impurities concentrate above the membrane and are passed from the system to drain or onto other processes.
Advantages
Does not require hazardous chemicals.

?Reduces water and sewage use costs.

Energy efficient, especially when used instead of distillation to produce high-purity water.

The ability to remove many dissolved substances efficiently yet produces good tasting finished water.
Osmosis
Osmosis is the spontaneous net movement of solvent molecules through a selectively permeable membrane into a region of higher solute concentration, in the direction that tends to equalize the solute concentrations on the two sides.
Illustration