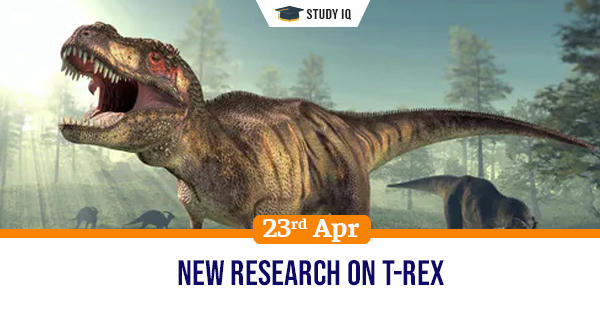 New research on T-Rex
Date: 23 April 2021
Tags: Miscellaneous
Issue
A new study by palaeontologists from the Netherlands has found that the highest walking speed of Tyrannosaurus would not have exceeded 5 kmph.
Background
The Tyrannosaurus is one the ferocious and most dangerous species of Dinosaur. However, very little is known about them.
Details
Another study on T-Rex found that over the course of millennia, some 2.5 billion T. rex lived and died on Earth.

Previous studies had already shown that the speeds portrayed in movies were inaccurate and the speed ranged from 7 to 10 kmph.

The speed was determined by calculating the hip height of the Dinosaur and its mass. The stride lengths from preserved footmarks were also analysed for the study.

The scientists made use of simulations of the vertical movement of the dinosaur's tail to arrive at precise numbers.
Tyrannosaurus Rex
The Tyrannosaurus Rex is considered to be the most fearsome eating machine to have lived on the Earth.

It lived about 66 million to 68 million years ago on earth at the end of cretaceous period. It weighed between 5000 to 7000 kg and would grow 12 to 15 feet in length.

It inhabited the present Western America and not found in India. Its habitat could have extended from Alaska in North America up until Mexico in the south.

Based on scientific estimations, at any point of time about 20,000 T. rexes lived on Earth. About 1.2 lakh generations could have lived and died.