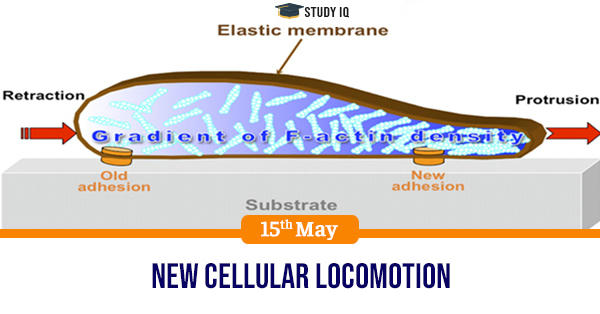 New Cellular locomotion
Date: 15 May 2020
Tags: Miscellaneous
Issue
The scientists describe a new mechanism of cell locomotion that works completely independent of a cell specifically binding to the extracellular environment.
Background
Usually, every cell within the organism binds to its surrounding via specific adhesion receptors that are present on its plasma membrane. Similarly, cancer cells, which can originate in any tissue or organ, can also spread and reproduce far away from their place of origin.
Details
In their experiments, the biologists used different types of leukocytes from which they genetically eliminated the function of integrins to interrupt the binding between the cells and their extracellular environment.

While integrins are essential for the survival and movement of almost all cell types, the scientists had discovered in a previous study that leukocytes can move and survive without integrins. The same turned out to be true for some cancer cells.

To analyze the locomotion mechanism that allows cells to migrate in the absence of adhesion, the scientists focused on the geometry of the environment rather than its molecular composition. They engineered tiny cell-sized "microfluidic" channels with different wall geometries: from completely smooth to rough or serrated texture.

They then let the cells migrate through these channels to observe that the integrin-deprived cells were not able to move forward when the walls were smooth and parallel.

Researchers uncovered the unifying mechanical theme that underlies both modes of locomotion: Actin, the filamentous building material of the cell's cytoskeleton, flows from the front of the cell to the tail end.

As the scientists found, however, actin cannot only couple through integrins; it can also couple without any transmembrane receptors.

If the walls are parallel, or the bumps are too far apart, this does not work. Another way to see this is that the cell propels itself by changing its shape over time.