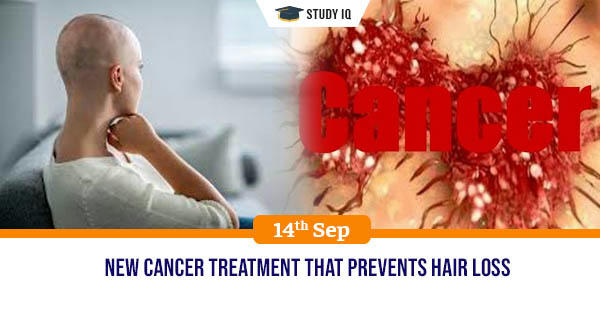 New cancer treatment that prevents hair loss
Date: 14 September 2019
Tags: Miscellaneous
Issue
The study published in the journal EMBO Molecular Medicine describes how damage to the hair follicles caused by taxanes, cancer drugs which can cause permanent hair loss, can be prevented.
Background
Chemotherapy treatment drugs have many side effects one among which is hair loss. The effect of the drug on cancer cells spread to hair follicles too, making them die and affecting hair growth.
Details
The research team has exploited the properties of a newer class of drugs called CDK4/6 inhibitors, which block cell division and are already medically approved as so-called "targeted" cancer therapies.

CDK4/6 inhibitors can be used temporarily to halt cell division without promoting additional toxic effects in the hair follicle.
Implications
Cancer disease not only affects the physical structure of thge body, it has its effect on psychology of an individual as well.

Loss of hair can certainly create sense of uneasiness among cancer patients and affect their overall chances of being back to normal.

This research can surely help patients cope up with the after effects of medicinal treatment.