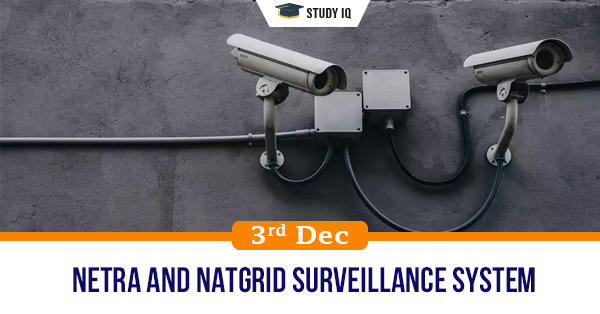 NETRA and NATGRID surveillance system
Date: 03 December 2020
Tags: Miscellaneous
Issue
The Delhi High Court sought response of the Centre on a plea claiming that citizens' right to privacy was being "endangered" by the surveillance systems like the Centralised Monitoring System (CMS), Network Traffic Analysis (NETRA) and National Intelligence Grid (NATGRID).
Background
NATGRID and NETRA are monitoring systems to track nefarious activities occurring over internet as well as telephonic medium.
Details
The petitioners has sought directions to the Centre to "permanently stop the execution and the operation of the surveillance projects, CMS, NETRA and NATGRID, which allows for bulk collection and analysis of personal data.

It has also sought constitution of a permanent independent oversight body, judicial or parliamentary, for issuing and reviewing lawful interception and monitoring orders/warrants under the enabling provisions of the Indian Telegraph Act, 1885 and the Information Technology Act, 2000.
NATGRID
The National Intelligence Grid or NATGRID is the integrated intelligence master database structure for counter-terrorism purpose connecting databases of various core security agencies under Government of India.

It collects comprehensive patterns procured from 21 different organizations that can be readily accessed by security agencies round the clock.

The whole master database will go live by 31 December 2020. It is accessible to only authorized people from 10 security agencies on a case-to-case basis for investigations into suspected cases of terrorism.

The combined data will be made available to 11 central agencies, which are: Research and Analysis Wing (R&AW), National Investigation Agency (NIA), Intelligence Bureau (IB), Central Bureau of Investigation (CBI), Financial Intelligence Unit (FIU), Central Board of Direct Taxes (CBDT), Directorate of Revenue Intelligence (DRI), Enforcement Directorate (ED), Narcotics Control Bureau (NCB), Central Board of Indirect Taxes and Customs (CBIC) and Directorate General of GST Intelligence.

NATGRID faced opposition on charges of possible violations of privacy and leakage of confidential personal information.

Its efficacy in preventing terror has also been questioned given that no state agency or police force has access to its database thus reducing chances of immediate, effective action.

NATGRID claims to be protected by several structural and procedural safeguards and oversight mechanisms including that of external audits and technology safeguards.
NETRA
NETRA (NEtwork TRaffic Analysis) is a software network developed by India's Centre for Artificial Intelligence and Robotics (CAIR), a Defence Research and Development Organisation (DRDO) laboratory, and is used by the Intelligence Bureau, India's domestic intelligence agency, and the Research and Analysis Wing (RAW), the country's external intelligence agency to intercept and analyse internet traffic using pre-defined filters.

NETRA can analyse voice traffic passing through software such as Skype and Google Talk, and intercept messages with keywords such as 'attack', 'bomb', 'blast' or 'kill' in real-time from the enormous number of tweets, status updates, emails, instant messaging transcripts, internet calls, blogs, forums and even images generated on the internet to obtain the desired intelligence.