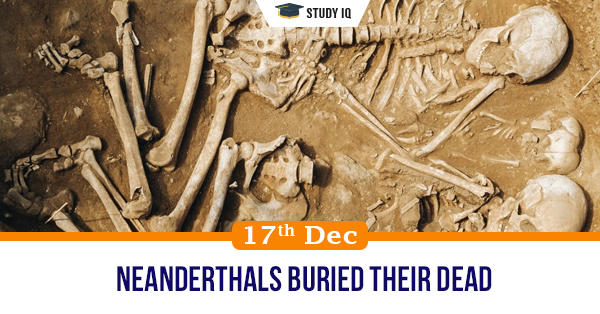 Neanderthals buried their dead
Date: 17 December 2020
Tags: Miscellaneous
Issue
Researchers have uncovered new evidence to suggest that Neanderthals practiced burial practice, through a grave discovered in France.
Background
Dozens of buried Neandertal skeletons have been discovered in Eurasia, leading some scientists to deduce that, like us, Neanderthals buried their dead.
Details
Researchers analysed a human skeleton from one of the most famous Neandertal sites in France: the La Ferrassie rock shelter, Dordogne.

They reopened the excavation notebooks and reviewed the material, revealing 47 new human bones not identified during excavation and undoubtedly belonging to the same skeleton. The scientists also carried out a thorough analysis of the bones: state of preservation, study of proteins, genetics, dating, etc.

The researchers showed that the skeleton had been buried in a sedimentary layer which inclined to the west, while the other stratigraphic layers of the site inclined to the north-east.

The bones, which were relatively unscattered, had remained in their anatomical position. It indicated a rapid burial after death. Furthermore, the contents of this layer proved to be earlier than the surrounding sediment.

This new information proves that the body of Neandertal was purposefully deposited in a pit dug in a sedimentary layer around 41,000 years ago.
Neanderthals
Neanderthals are an extinct species or subspecies of archaic humans who lived in Eurasia until about 40,000 years ago.

They most likely went extinct due to competition or extermination by, immigrating European early modern humans or due to great climatic change, disease, or a combination of these factors.