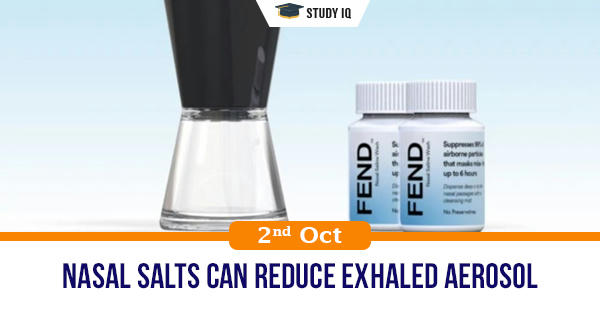 Nasal salts can reduce exhaled aerosol
Date: 02 October 2020
Tags: Miscellaneous
Issue
Researchers have reported a way of eliminating airborne particles from airways using nasal calcium-rich salts.
Background
Discharge of particles through aerosols is one of the major reasons for fast spread of infections. By eliminating discharge of particles, spreading of infection can be arrested.
Details
FEND, a drug-free calcium-enriched nasal salt, is created by Sensory Cloud, a Boston-based start-up. In three separate studies, 92 participants were observed to showcase use of FEND in different situations.

The results showed a reduction of exhaled aerosol particles of up to 99%, with an overall reduction of 78% in the largest cohort.

In the first study, 76 Covid-negative volunteers were recruited. The exhaled aerosol was measured prior to the nasal intervention. After they received FEND, the intervention suppressed 78% of exhaled aerosols in this group.

The second study covered a family of four in quarantine with one Covid-positive mother. After the intervention, her levels decreased to average baseline levels for a Covid-negative patient, for several hours.

The third study compared use of FEND to surgical mask use in 12 participants. The masks reduced overall exhaled particles by around 34%, while FEND reduced overall them by 46%.

FEND can be an important addition to current COVID-19 hygiene protocols of mask wearing, hand washing, and social distancing.

FEND adds to the efficacy of masks at reducing the penetration of respiratory droplets into the lungs or back into the environment and provides an added layer of defence for when mask wearing is not a possibility.