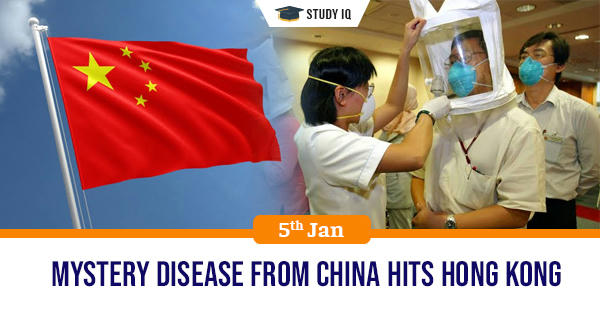 Mystery disease from China hits Hong Kong
Date: 05 January 2020
Tags: Miscellaneous
Issue
Hong Kong's hospital authorities activated the "serious response" level in public hospitals as part of its newly launched Preparedness and Response Plan for Novel Infectious Disease of Public Significance.
Background
The response plan was launched along with the activation of the response level from "alert" to "serious" amid fears that a mystery infectious disease was brought to Hong Kong by visitors to the city of Wuhan in mainland China.
Details
Hong Kong's Department of Health has said that a number of viral pneumonia cases with unknown causes have been identified since last December, the symptoms of which include fever and shortness of breath.

Chinese health authorities have been investigating the cause of several cases of viral pneumonia that were reported in Wuhan. There was some speculation initially that the infection may be linked to Severe Acute Respiratory Syndrome (SARS).

Chinese officials had covered up the SARS outbreak for weeks, before the rising death toll and increasingly loud whispers forced the government to reveal the outbreak of the epidemic.

Epidemiological investigations have revealed that some patients who have contracted the mystery infection are business operators at the seafood market.

The causative pathogen and potential cause of the infection are still under investigation. Influenza viruses, avian influenza viruses, and some other common respiratory diseases such as adenovirus have been ruled out.

As part of the serious response level, more stringent infection control measures are enforced in public hospitals.

This plan is activated when the risk of health impact caused by the novel infection is moderate. It reflects a situation of a limited spread of the disease in the local population.
Severe Acute Respiratory Syndrome (SARS)
Severe acute respiratory syndrome (SARS) is a viral respiratory disease of zoonotic origin caused by the SARS coronavirus (SARS-CoV).

In late 2017, Chinese scientists traced the virus through the intermediary of civets to cave-dwelling horseshoe bats in Yunnan province.

Initial symptoms are flu-like and may include fever, muscle pain, lethargy symptoms, cough, sore throat, and other nonspecific symptoms.

SARS may eventually lead to shortness of breath and pneumonia; either direct viral pneumonia or secondary bacterial pneumonia.

There is no vaccine for SARS. Isolation and quarantine remain the most effective means to prevent the spread of SARS.