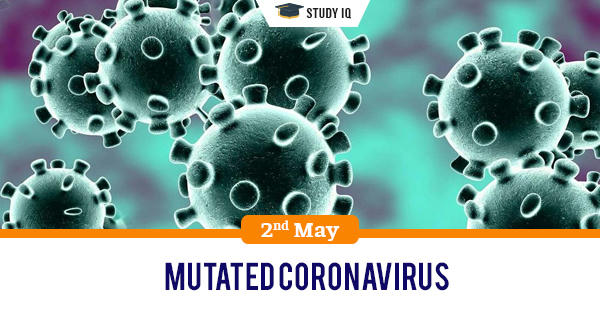 Mutated Coronavirus
Date: 02 May 2020
Tags: Miscellaneous
Issue
Scientists at the National Institute of Biomedical Genomics (NIBMG), have found that the novel coronavirus has undergone mutations to form 10 different types (clades).
Background
Of the 10, one specific type called A2a has become predominant and is fast replacing both the original type (called "O") from China and other mutated types in many countries.
Details
The A2a type seems to be predominant in New York, Italy, Australia, Spain, Iceland, Brazil, Congo and other countries. It is also the dominant type in India. Washington state and New York show contrasting predominance of the clades.

While B1 type is predominant in Washington, A2a dominates in New York. The differences in patterns of travel contact with China and Europe could be a reason.

It is not known if A2a type has become predominant in China too as China has not been submitting sequence data for about a month.

The mutation that gives rise to the A2a type is seen in the spike protein of the virus. The spike protein is responsible for the virus binding to the cell receptor and entering the cells.

The mutation seen in A2a has caused a change in the amino acid at a particular location of the spike protein.

The mutation seen in A2a enhances the efficiency of entry of the virus into human cells. None of the other nine types has a mutation in the spike protein.

The increased infectivity may be the reason why the A2a type has become predominant in many countries.

Even in the case of India, 16 of 35 genome sequences belong to the A2a type. Of the 16 sequences of A2a type, 10 were from people who did not have a travel history.