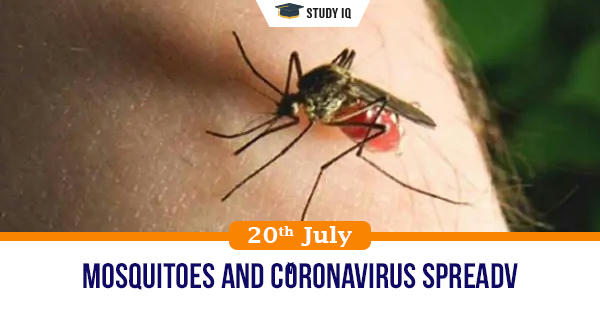 Mosquitoes and coronavirus spread
Date: 20 July 2020
Tags: Miscellaneous
Issue
Scientists from Kansas State University have provided evidence that mosquitoes indeed cannot spread coronavirus from one person to another.
Background
The WHO has been definite that mosquitoes cannot transmit the virus. The new study refers to this as a presumption and says it may be based on various observations and facts extrapolated from other coronaviruses.
Details
The coronaviruses that cause SARS and MERS produce relatively low levels of virus in the blood, compared to the levels produced when mosquitoes are infected with dengue and yellow fever.

The researchers have demonstrated in lab experiments that SARS-CoV-2 cannot infect mosquitoes. It is the first such confirmation.

If replication takes place, there should be a sufficient level of virus in the blood to indicate this. The more viruses in the blood then the more likely the mosquito is to be infected.

The mosquitoes that spread dengue and chikungunya are transmitted by Aedes aegypti which is susceptible, but not by Anopheles species which are resistant. This shows that not all mosquitoes can host and spread viruses.

The experiments were conducted on three common and widely distributed species of mosquitoes. Aedes aegypti, Aedes albopictus, and Culex quinquefasciatus.

The first two species are the vectors for dengue fever, chikungunya, Zika fever, and yellow fever. Culex quinquefasciatus spreads viruses that cause lymphatic filariasis and certain kinds of encephalitis.

If the virus does not grow when injected with virus-containing blood then we can be confident that even if a mosquito fed on a person with lots of virus in their blood then they would not be infected.