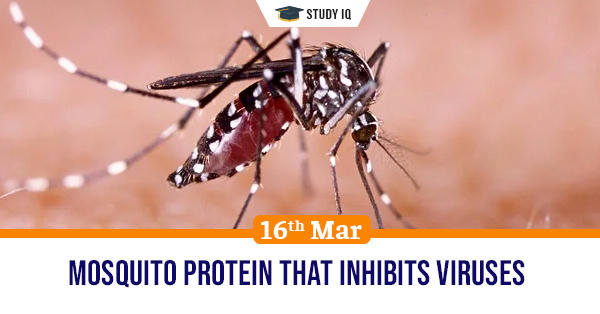 Mosquito protein that inhibits viruses
Date: 16 March 2021
Tags: Miscellaneous
Issue
Scientists have identified a protein known as AEG12 that targets the viruses that cause yellow fever, dengue, West Nile, and Zika.
Background
The research has also found that the protein can tackle weak Coronaviruses, which raises hope of preventing Covid-19.
Details
AEG12 destabilises the viral envelope that surrounds the virus by breaking its protective covering.

The protein cannot restrict viruses that do not have protective casing. The result raises hopes on eliminating large number of vector-borne diseases.

Scientists used x-ray spectroscopy to identify structure of the protein. The protein rips out lipids, which are fat-like portions.

The researchers insist that the protein is more effective against flaviviruses groups. The virus in this group can cause Zika, West Nile etc.

However, concern is that the protein can also rip apart the red blood cells of the body. Scientists are looking for compounds that force the protein to target only the virus.

To modify the protein and use it as a therapy to treat diseases such as Zika, Covid-19, west Nile etc could take lots of time.
Flavivirus
The Flaviviridae are a family of viruses that are positive, single-stranded and have enveloped RNA. They are found in arthropods such as ticks and mosquitoes but can also infect humans.