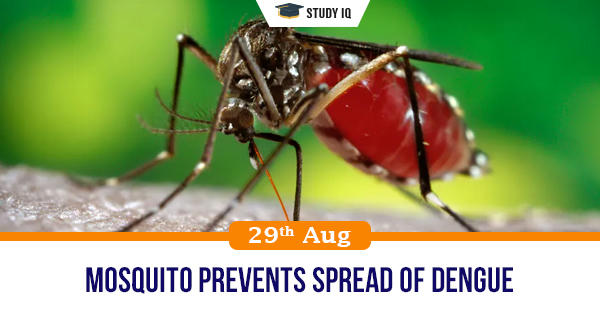 Mosquito prevents spread of dengue
Date: 29 August 2020
Tags: Miscellaneous
Issue
Two years ago, researchers infected mosquitoes with bacteria and released them into parts of an Indonesian city. The results showed dengue incidence was 77% lower than in areas where they were not.
Background
These findings have implications for combating dengue on a larger scale, and possibly other mosquito-borne diseases.
Details
The key to this is a bacterium, Wolbachia, which occurs naturally in some species of insects. But Wolbachia does not occur naturally in Aedes aegypti, the mosquito species that spreads dengue and other diseases such as chikungunya, Zika, and yellow fever.

In 2008, the Australian-based research group World Mosquito Program (WMP) discovered that Aedes aegypti mosquitoes can no longer spread dengue when they are carrying Wolbachia. This is because the dengue virus struggles to replicate inside the mosquito when these bacteria are present.

Once you release mosquitoes carrying the Wolbachia bacteria, they will interbreed with the local wild mosquitoes. Over time, several generations of mosquitoes will be carrying Wolbachia naturally.

A stage will eventually be reached when those carrying Wolbachia represent a large proportion of the local mosquito population, so that a bite is less likely to transmit the virus to humans.

Previously, WMP had carried out experiments in Australia, and then in 11 other countries, on a smaller scale. What makes the Indonesian study significant is that the first randomised controlled trial of the strategy.

The researchers believe the strategy will likely work for other viruses transmitted by Aedes aegypti. It not only blocks one virus, it blocks many flaviviruses.

Incidence of dengue has grown dramatically around the world in recent decades, with a vast majority of cases under-reported.

WHO estimates 39 crore dengue virus infections per year, of which 9.6 crore show symptoms. India registered over 1 lakh dengue cases in 2018 and over 1.5 lakh cases in 2019.