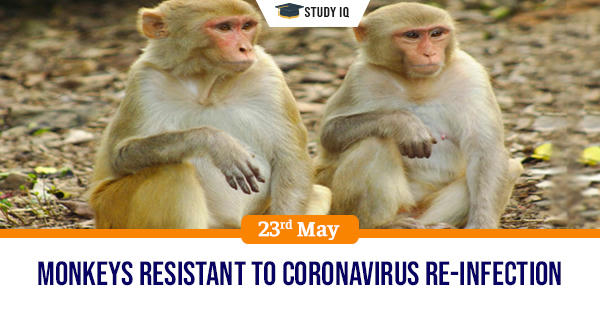 Monkeys resistant to Coronavirus re-infection
Date: 23 May 2020
Tags: Miscellaneous
Issue
Evidence from studies carried out on rhesus macaque monkeys suggest that once infected with the novel coronavirus, the animals may be protected against re-infection.
Details
In total, nine adult rhesus macaques (6-12 years old) were exposed to two different doses of the virus. The researchers found high levels of virus in the lungs and nose (nasal swabs). While the virus cleared by day 10 in the lungs, it persisted for as long as 28 days in the nose.

The researchers next evaluated different immune responses by animals that were infected by the virus. They found that all nine animals developed binding antibody responses to the spike protein of the virus, and neutralising antibody responses too. In addition, antibody responses of multiple subclasses were found.

On day 35 following initial viral infection, all the nine monkeys were re-exposed or challenged with the same three doses of the virus.

Compared with three monkeys that were not earlier infected with the virus, all the nine animals that were challenged showed very less virus in the lungs on day 1 and no virus on subsequent days.

In the case of the nose, the viral load was higher than in lungs but lower than when exposed for the first time (to induce infection). The viral load in the nose after the challenge showed "rapid decline".

Little or no clinical disease was observed in the animals following re-challenge. What that indicates is that all the nine monkeys mounted an antibody response to the second dose of the virus, suggesting that immune systems could successfully eliminate the virus and protect the animals.

All the monkeys were challenged at week 6, which is three weeks after the booster dose. No viral RNA could be found in the plasma of the animals, and the animals exhibited only "mild clinical symptoms".

The vaccine was able to elicit robust protection in the lungs than in the nose. And eight of the 25 vaccinated animals did not have detectable virus either in the lungs or in the nose at any time point, when exposed to the virus following vaccination.

However, it is critical to emphasize that there are important differences between SARS-CoV-2 infection in macaques and humans, with many parameters still yet to be defined in both species, and thus the data should be interpreted cautiously.