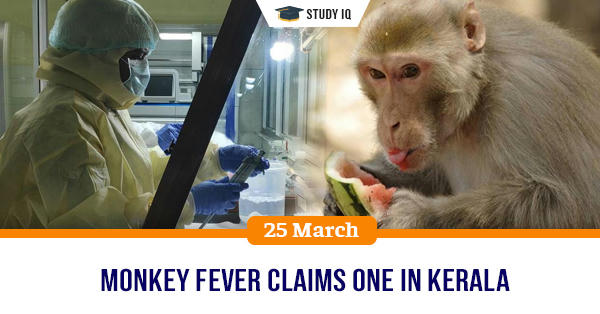 Monkey fever claims one in Kerala
Date: 25 March 2019
Tags: Miscellaneous
Kyasanur Forest Disease (KFD or monkey fever) has claimed death of one person from Kerala's Begur tribal hamlet located on Kerala-Karnataka border. It is first KFD death reported in Kerala after 2015 KFD outbreak in Wayanad district of state. Wayanad had witnessed cases of KFD for four years in a row from 2013 onwards till 2016.
Monkey Fever
It is also called as Kyasanur forest disease . It is tick-borne viral hemorrhagic fever.

It is caused by Kyasanur forest disease virus (KFDV), a member of virus family Flaviviridae, which also causes dengue and yellow fever.

It is endemic to South Asia. It is named monkey fever because it primarily affects black-faced langurs and red-faced bonnet monkeysand result in their death.

It was first isolated in 1957 from sick monkeys captured in Kyasanur forests in Shimoga district of Karnataka.

As monkeys migrated from Karnataka to bordering states, it spread to Kerala, Goa, Tamil Nadu and Maharashtra.

It causes seasonal outbreaks between December and May along Western Ghats. Most of its cases are reported in western Ghats bordering Karnataka.

Transmission:

Ticks (Hemaphysalis spinigera) is prime vector responsible for its transmission. These ticks are known to thrive in Western Ghats and transmit virus to humans. Humans contract to this virus from bite of nymphs of these tickc.

Symptoms:

It starts with high fever and bodyache, followed by haemorrhagic symptoms, similar to that in dengue. It has a mortality rate of 5 to 10

%.

High fever with headache, followed by haemorrhagic symptoms such as bleeding from throat, nose and gums.

It also causes gastrointestinal bleeding, absent reflexes, muscle stiffness, tremors and mental disturbances.

Prevention:

Vaccination can help to stop its spread. Besides, preventative measures such as using insect repellents and wearing protective clothes in tick endemic areas.