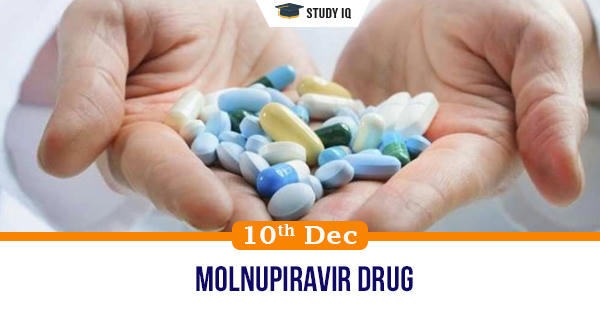 Molnupiravir drug
Date: 10 December 2020
Tags: Miscellaneous
Issue
Amidst ongoing study to find vaccine against COVID-19, researchers have discovered a new antiviral oral drug that can stop the spread of the transmission of SARS-CoV-2 within 24 hours.
Background
A study by researchers has found antiviral drug Molnupiravir (MK-4482/EIDD-2801) could be a game-changer in a fight against the coronavirus.
Details
Molnupiravir is an experimental antiviral drug which is orally active and was originally discovered for the treatment of influenza.

MK-4482/EIDD-2801 has broad-spectrum activity against respiratory RNA viruses and that treating infected animals by mouth with the drug lowers the amount of shed viral particles by several orders of magnitude, dramatically reducing transmission.

These properties made Molnupiravir a powerful candidate for pharmacologic control of COVID-19.

In the study, the team repurposed Molnupiravir against COVID-19 and used a ferret model to test the effect of the drug on containing the spread of the virus.

Researchers believe ferrets are a relevant transmission model because they readily spread SARS-CoV-2, but mostly do not develop severe disease, which closely resembles SARS-CoV-2 spread in young adults.

Since the drug can be taken by mouth, it may have potentially three-fold benefit such as inhibiting patients' progress to severe disease, shorten the infectious phase, and break local outbreaks.

A previous study from has also shown that whereas the SARS-CoV-2 virus can become resistant to remdesivir, Molnupiravir will be more effective in preventing drug resistance.
Remdesivir
Remdesivir is a broad-spectrum antiviral medication developed by the biopharmaceutical company Gilead Sciences. It is administered via injection into a vein.

The most common side effect in healthy volunteers is raised blood levels of liver enzymes (a sign of liver problems).

The most common side effects in people with COVID?19 is nausea. Side effects may include liver inflammation and an infusion-related reaction with nausea, low blood pressure, and sweating.

The most common adverse effects in studies of remdesivir for COVID?19 include respiratory failure and organ impairment, including low albumin, low potassium, low count of red blood cells, low count of platelets that help with clotting, and yellow discoloration of the skin.

Other reported side effects include gastrointestinal distress, elevated transaminase levels in the blood (liver enzymes), and infusion site reactions.