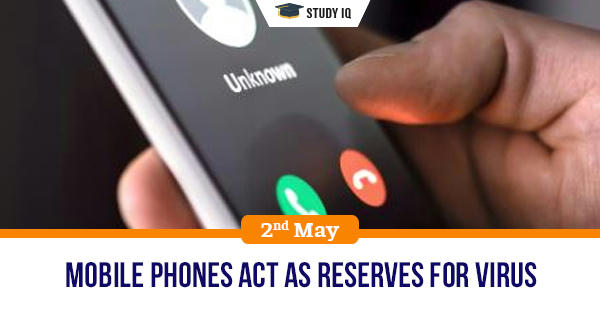 Mobile phones act as reserves for virus
Date: 02 May 2020
Tags: Miscellaneous
Issue
A new study has warned that mobile phones could be acting as "Trojan horses" for coronavirus. It found that phones host a cocktail of live germs.
Background
While all those studies predate the current pandemic, the authors said SARS-CoV2 is probably present on mobiles and other touch-screen devices of coronavirus sufferers.
Details
The research found that 68% of the phones sampled in these studies were contaminated. Golden staph and E. coli microbes were among the most common bugs on phones.

Researchers recommended that phones should be decontaminated daily and regularly with either 70% isopropyl or by sanitising with (ultraviolet) devices like PhoneSoap.

The systematic review found golden staph and E.Coli microbes were among the most common bugs on phones. According to the researchers, mobile devices were 'five-star hotels with premium heated spas, free buffet for microbes to thrive on'.

According to the researchers, community transmission could occur when an infected person touched their phone and then a pole on a bus which was grasped by an elderly person.

The wider research community needs to do more work here to find out exactly what types of microbes can live on a phone and for how long, so that people understand the risk of this thing they carry around with them every day.