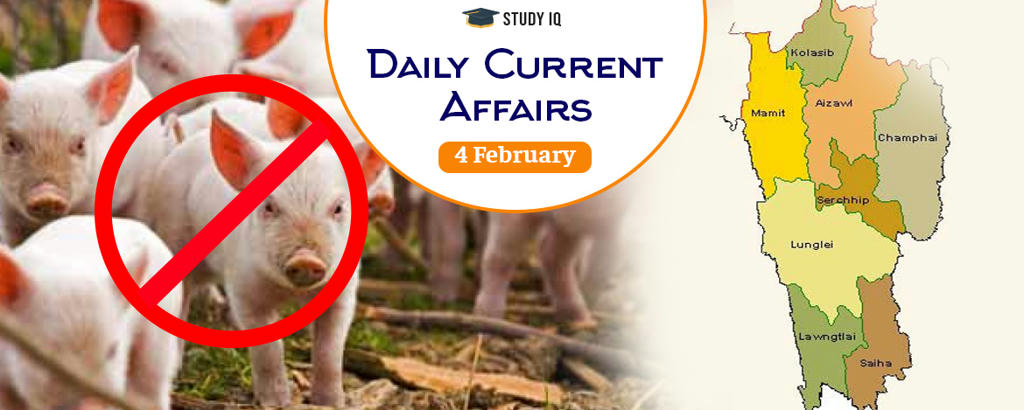 PRRS Disease: Mizoram Government bans import of pigs
Date: 04 February 2019
Tags: Miscellaneous
Mizoram government has banned import of pigs and piglets from other countries in all of its eight districts as precautionary measure to stop possible outbreak of Porcine Reproductive and Respiratory Syndrome (PRRS). The orders were issued as it was suspected that PRRS outbreak in state is due to illegal and even legal import of pigs and piglets from Myanmar where there was reported prevalence of this porcine disease.
Background
PRRS outbreak in Mizoram has always occurred from March to July, during a dry spell after pre-monsoon downpours.

It has cost the lives of over 10,000 swines in Mizoram since 2013 (3,806 pig deaths in 2013, 4,699 in 2016 and 2,574 in 2018).

It is believed that it happened due to import of pigs and piglets from Myanmar where PRRS disease is prevalent.
Porcine Reproductive and Respiratory Syndrome (PRRS)
It is also known as blue-ear pig disease, which affectes domestic pigs. It is highly infectious pig disease. Younger pigs are more affected than older animals.

It is caused by virus classified as a member of the genus Arterivirus. Thus, it belongs to genus Arterivirus, family Arteriviridae, order Nidovirales.
Symptoms: It is panzootic diseasethat causes reproductive failure (such as infertility, abortions, stillbirths, or the birth of weak piglets), respiratory disease in young pigs, pneumonia and increased susceptibility to secondary bacterial infection in pigs.

It is recognised by laboured breathing, fever, loss of appetite and listlessness, red discoloration of body and blue ears.

Treatment: Modified Live Vaccines (MLV) vaccines are primary immunological tool for its control.
Public Health Risk: There is no evidence of human infection with PRRS virus.