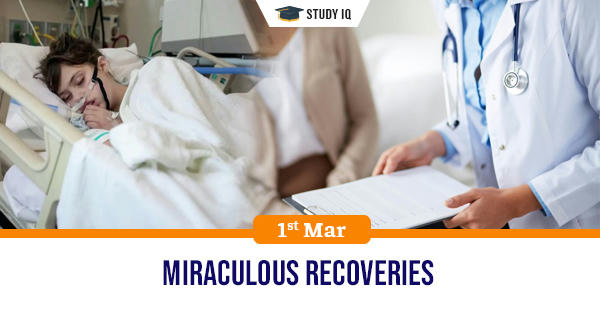 Miraculous recoveries
Date: 01 March 2020
Tags: Miscellaneous
Issue
Sometimes a doctor comes across a patient who improves unexpectedly from a disease that usually progresses, such as cancer, and at times is even cured. This is called spontaneous healing or spontaneous regression .
Background
Spontaneous Regression is defined as "the partial or complete disappearance of a disease in the absence of all treatment, or in the presence of therapy which is considered inadequate to exert significant influence on neoplastic disease".
Details
Such cases notwithstanding, the medical fraternity is often sceptical and takes "miraculous" recoveries as flukes. Very few study such cases such or take them into account when treating patients.

The research around Spontaneous Healing explores patterns behind healing illnesses such as the deadliest kinds of cancers, and lays out physical and mental principles associated with recovery.

These include physically healing diets and immune systems, and mentally healing stress responses and identities.

They say that much of our physical reality is created in our minds and perception changes our experiences, sometimes to the point of changing our bodies.

Researchers say that we can learn from these cases of spontaneous remission and can activate the power of the human body using the mind to harness our body's own healing systems.