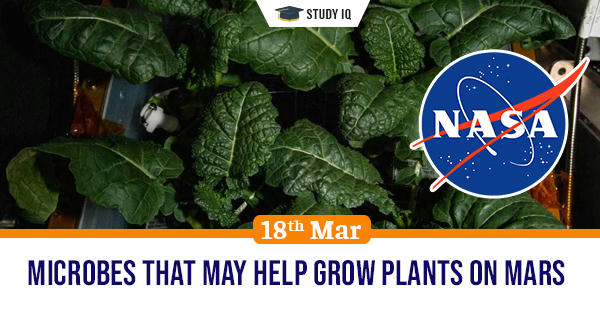 Microbes that may help grow plants on Mars
Date: 18 March 2021
Tags: Miscellaneous
Issue
NASA has discovered new strains of microbes that can help grow plants on Mars. This is significant because currently growing plants is not possible.
Background
Climate on Mars is rigorous and difficult for plants to survive. For making that happen, the help from microbes is necessary.
Details
The discovery was made aboard the International Space Station (ISS) and this can help researchers create necessary 'fuel' that help plants withstand stressful situations.

The bacteria were discovered across different locations aboard the ISS across two consecutive flights. They belong to family of Methylobacteriaceae.

While one strain of bacterium belonged to Methylorubrum rhodesianum, the others were previously not recorded and belong to a new species novel.

The new strains are in shape of rod and have been named IF7SW-B2T, IIF1SW-B5, and IIF4SW-B5. They closely resemble Methylobacterium indicum.

The bacteria belonging to Methylobacterium species are involved in process of nitrogen fixation, phosphate solubilization, and abiotic stress tolerance, promoting plant growth and controlling activity against plant pathogens.

Scientists are planning to name the species Methylobacterium ajmalii after renowned Indian biodiversity scientist Dr Ajmal Khan.
Significance of discovery
In places where resources are minimal, the microbes help to promote plant growth under stressful conditions.

Scientists planning Human Mars mission can now focus on growing plants indigenously to produce oxygen and food for astronauts.