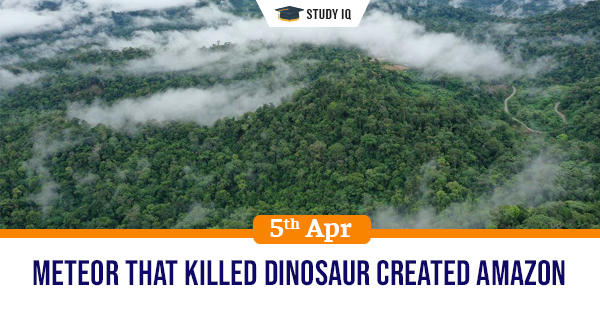 Meteor that killed dinosaur created Amazon
Date: 05 April 2021
Tags: Miscellaneous
Issue
The catastrophic asteroid impact that wiped out dinosaurs and 75% of plants and animal species gave rise to Amazon rainforest.
Background
Dinosaurs ruled Earth millions of years ago. Their dominance ended when an asteroid stuck Earth near the Yucatan Peninsula in Mexico.
Details
The research was based on analysis of thousands of samples of fossils of spores, pollen and leaves obtained from the area.

The asteroid impact had a large effect on formation of tropical rainforests. The impact completely changed the evolutionary condition of the growth.

The number of cone bearing plants declined after the impact. They were replaced by seed bearing angiosperms that were thicker.
Relation between forests and asteroid impact
The dinosaurs feasted on the plants and trees growing in the region, preventing it from growing thick and tall.

Post the asteroid impact and subsequent death of dinosaurs, the plants did not have disadvantage of trampling and feeding by the large herbivores.

Another explanation is that the flying ash from the impact increased the fertility of the soil. It helped forests to grow faster and thicker.