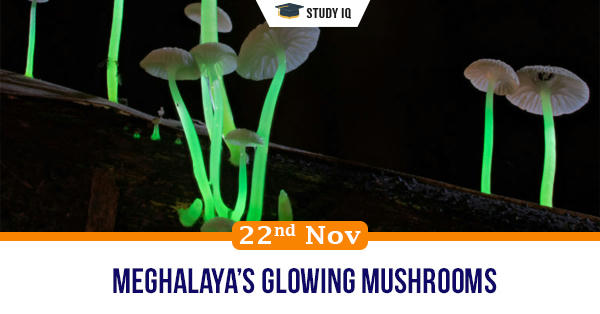 Meghalaya's glowing mushrooms
Date: 22 November 2020
Tags: Miscellaneous
Issue
A mushroom documentation project in the forests of Northeast India has discovered a bioluminescent or light emitting variety of mushroom.
Background
The mushroom is now one among the 97 known species of bioluminescent fungi in the world. It has been named as Roridomyces phyllostachydis.
Details
The new species was first sighted near a stream in Meghalaya's Mawlynnong in East Khasi Hills district and later at Krang Shuri in West Jaintia Hills district.

The post sequencing the ITS gene of the mushroom, the researchers found that the mushroom belonged to the Roridomyces genus, and was altogether a new species, named after the host bamboo tree, Phyllostachys, from where it was first collected.

The researchers said the new species was important because it was the first mushroom in the Roridomyces genus to be found in India. It was the only member in its genus to have light emitting from its stipe or stalk.
Bioluminescence
Bioluminescence is the property of a living organism to produce and emit light. Animals, plants, fungi, and bacteria show bioluminescence.

Bioluminescent organisms are usually found in the ocean environments, but they are also found on terrestrial environments. The colour of the light emitted by the organism depends on their chemical properties.

In the case of fungi, the luminescence comes from the enzyme, luciferase. The light is emitted when luciferans is catalysed by the enzyme luciferase, in the presence of oxygen.

Mushrooms may glow for a number of reasons. The simplest explanation could be that bioluminescence attracts insects, which helps in dispersing spores.

It may also be a mechanism for the organism to protect itself from frugivorous (or fruit-eating) animals.