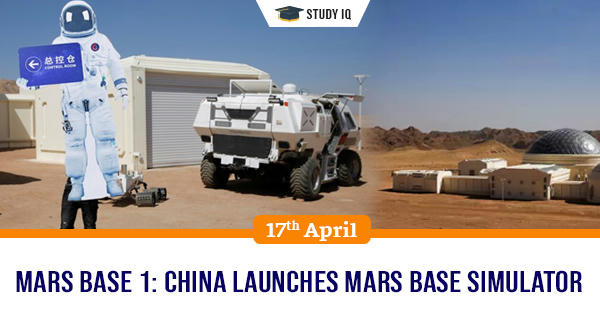 MARS BASE 1: China launches Mars base simulator
Date: 17 April 2019
Tags: Miscellaneous
Chinese space company C-Space has launched MARS BASE 1, a Mars base simulator to educate school children. It is not meant for housing astronauts training to live on the red planet. It will simulate speculative China-led mission to Mars.
Mars Base 1
It is Mars base simulator located in Gobi desert, some 40 km from Jinchang in China's northwest Gansu province. It aims to create simulated environment similar to Mars to expose teenagers and soon tourists on how life could be like on the Mars.
It has been developed by C-Space with help from Astronauts Centre of China and China Intercontinental Communication Centre, a state television production organisation.
It is white-coloured base and has silver dome and nine modules, including living quarters, control room, greenhouse and airlock. It will also allow teenagers go on treks in nearby desert, where they explore caves in the martian-like landscape.
Gobi Desert
It covers parts of Northern and Northeastern China and of southern Mongolia. It is the sixth-largest desert in the world and Asia's second largest. It is rain shadow desert, formed by the Tibetan Plateau blocking precipitation from the Indian Ocean reaching the Gobi territory. It is bounded by Altai Mountains and grasslands and steppes of Mongolia on north, by Taklamakan Desert to west, Hexi Corridor and Tibetan Plateau to southwest and North China Plain to the southeast. It is overall a cold desert, with frost and occasionally snow occurring on its dunes.