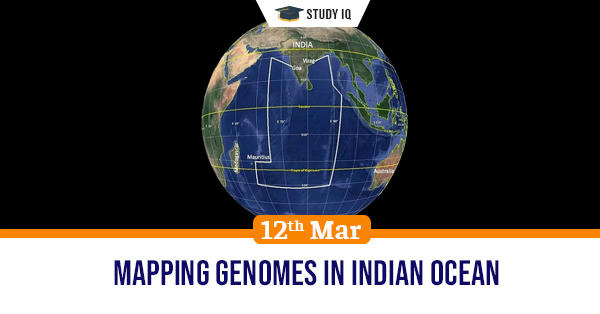 Mapping genomes in Indian Ocean
Date: 12 March 2021
Tags: Miscellaneous
Issue
Scientists from National Institute of Oceanography (NIO) will traverse the Indian Ocean in order to study internal working of the body of the ocean at a cellular level.
Background
It is the first such project in India and will be undertaken at the cost of Rs 25 crore. It will be undertaken over the course of three years.
Details
The project aims at understanding the biochemistry and the response of the ocean to change in climate, nutritional stress and increasing pollution.

The project will be started from Vishakhapatnam on the East coast and will move towards Australia then back towards Port Louis in Mauritius and to border of Pakistan, near India's west coast.

The researchers will collect samples from a depth of about 5 kilometres. The samples will be used for genome mapping of microorganisms in the Indian Ocean.

Gene mapping in microorganisms will be carried out using samples of blood, which is similar to that of humans.

The mapping of Deoxyribonucleic acid (DNA) and Ribonucleic acid (RNA) will indicate various forms of nutrients present in them and also those nutrients that are absent.
Use from the study
The study will help scientists to understand how the internal ecosystem of the Indian Ocean works.

It will also help scientists to identify various factors that control the changes in RNA, DNA in the oceans, and various stress issues impacting them.

The genome mapping will show which micronutrients the microbes have adapted to. It will also help in identifying microbial reaction to atmospheric carbon dioxide.

The study will also identify which part of the ocean has abundance of a particular form of nutrient or element.

The large library of RNA, DNA identified in the ocean will be used for the benefit of human population in the future.
Industrial applications
Applications of the study will include biotechnology, extending from multiple anticancer treatments to cosmetics and industrial elements, to antiviral molecules.
Study of mineral interaction
Minute metals such as cadmium or copper are introduced to oceans through continental run-offs, atmospheric deposition, hydrothermal activities and continental shelf interaction.

The metal interaction with marine organisms will help in having a complete understanding about nutrient cycling and productivity of the oceans.

Isotopic forms of minute metals can be used to track the movement of water masses responsible for circulation of oceans and as tools to study the biological, geochemical and ecosystem processes and food web analyses.