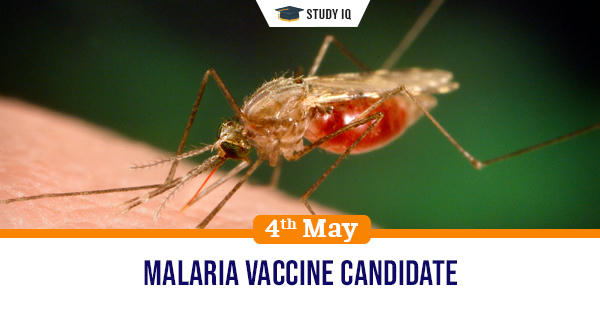 Malaria vaccine candidate
Date: 04 May 2021
Tags: Miscellaneous
Issue
A vaccine candidate for malaria has shown promising results in phase 2b clinical trials with an efficacy rate of 77 percent.
Details
The new candidate is called R21/Matrix M, which has been modified from the existing RTS, S, which is already under trials in various countries.

The RTS, S vaccine was developed after effort by PATH Malaria Vaccine Initiative, Bill and Melinda Gates Foundation, Walter Reed Institute of Research and GlaxoSmithKline.

The vaccine will prevent the malarial parasite plasmodium falciparum from entering liver and causing deadly impact. The vaccine targets protein of liver of Plasmodium falciparum.

RTS, S has been in development since the last 30 years and the only vaccine till date to reduce malaria in children.

The vaccine is not widely given across the population as its efficacy is very low. The new version is a modified version of this vaccine.
New version of vaccine
The R21/Matrix M is developed by scientists of Oxford University. The version of the vaccine is under development since the last 6-7 years.
The trial
The phase 2b trials were conducted in children of Burkina Faso over e period of 12 months. The efficacy in trials was found to be about 77 percent.

The trial was conducted in two doses, the high dose trial (three shots) and the low dose trial, both of which showed a 77 percent efficacy.
Importance
Malaria has still been a major disease in tropical areas. Children aged under 5 in sub-Saharan countries account for about two thirds of all deaths due to malaria.

The pandemic has put brakes on efforts to eradicate malaria as more focus and resources are allocated to fight Covid-19.

Lockdown and restrictions on travel has prevented transport of insecticides and mosquito nets to affected areas, thereby threatening eradication campaign.
Malaria
Malaria is a tropical infectious disease in which parasites are transmitted in humans by vector mosquitoes.

The disease is caused by single celled organism called the Plasmodium that is transmitted by infected Anopheles mosquito.

Typical symptoms of the disease include tiredness, fever, vomiting, and headaches. In severe cases, coma and deaths can also occur.