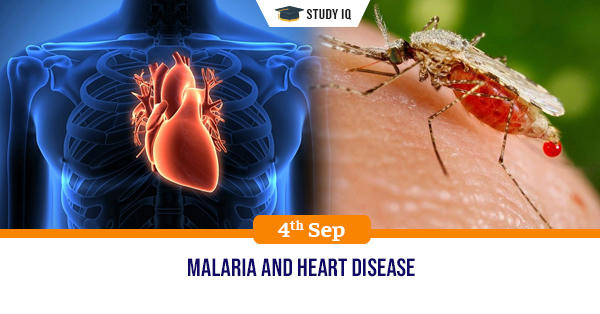 Malaria and Heart disease
Date: 04 September 2019
Tags: Miscellaneous
Issue
Malaria infection is linked with a 30% raised risk of heart failure, according to a small study presented today at ESC Congress 2019 together with the World Congress of Cardiology.
Background
The heart failure is defined as "the pathological state or clinical syndrome in which the heart is unable to pump blood commensurate with the requirements of the metabolizing tissues or can do so only with an elevated filling pressure."

Although the final common physiological outcome is the same, the underlying mechanisms that cause heart failure are diverse and complex.
Details
A selected number of patients were inserted with malarial plasmodium and studied. These patients had a 30% increased likelihood of developing heart failure over the follow-up time of 11 years.

while heart failure risk was increased for patients in the study, there was not a link to heart attack or cardiovascular death.

Recent studies have found that malaria could be a contributor to functional and structural changes in the myocardium, which is the muscle tissue of the heart..

Experimental studies have also shown that malaria may affect the blood pressure regulatory system causing hypertension, which is a contributor to heart failure.

Malaria can also affect vascular pathways that cause inflammation in the heart, which could lead to fibrosis and then heart failure.
Importance of research
A combination of high blood pressure, diabetes, obesity, and coronary artery disease are among the most common risk factors for heart failure.

India, along with 15 countries in sub-Saharan Africa, contributes to about 80% of the global burden of malaria.From 1990s to date the reported malaria incidence inIndia has been around 1.5 to 2.6 million cases and 666–1000 deaths/ annum.

Similarly, Cardiac ailments killed more Indians in 2016 (28%) than any other non-communicable disease.The reserch can contribute towards eradicating deaths that are linked to malarial infection.