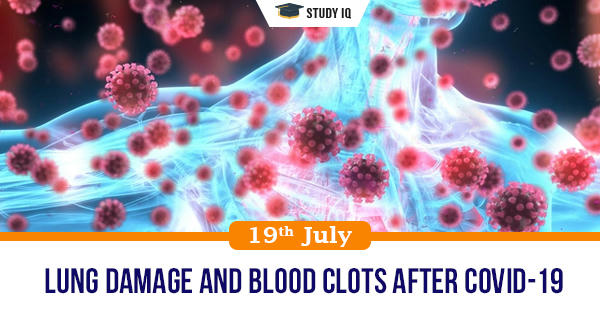 Lung damage and blood clots after Covid-19
Date: 19 July 2020
Tags: Miscellaneous
Issue
As the number of novel coronavirus infections in India surges, doctors have been increasingly reporting several relatively new conditions associated with Covid-19.
Background
Among these conditions are lung damage, known as lung fibrosis, and blood clots in the pulmonary artery – Pulmonary Thrombo Embolism or PTE, which are seen in persons who have recovered from very severe cases of the disease.
Details
Pulmonologists across the world have been flagging these conditions over the past few weeks as persons who have recovered from Covid-19 are going back to hospitals with breathing problems due to lung damage.

Pulmonologists say people with severe symptoms of the coronavirus could be dealing with lung complications for years after recovery.

The damage caused by the infection leads to scarring of the lungs, which has a long-term impact on the quality of life.

Lung fibrosis requires home oxygenation support even after discharge and recovery. In some cases, the cardiac health of the patient may be affected – causing 'cor pulmonale' or failure of the right ventricle of the heart, which is a known complication of chronic severe lung disorders.

Covid-19 initially attacks the lungs, leaving the air sacs filled with fluid, limiting their capacity to absorb oxygen, which ultimately leads to symptoms like shortness of breath, cough, etc.
Treatment
The methods of taking care of these conditions include the administering of medications such as anticoagulants and anti-fibrotic drugs along with home oxygenation if required.

Anticoagulants usually help in preventing the formation or enlargement of blood clots, whereas anti-fibrotics reduce the risk of acute respiratory degradation.