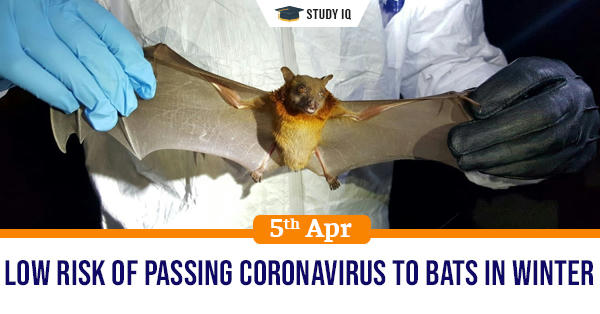 Low risk of passing coronavirus to bats in winter
Date: 05 April 2021
Tags: Miscellaneous
Issue
Scientists have found that coronavirus SARS-CoV-2 could have originated from bats in same form as other viruses have emerged.
Background
The research was conducted in an effort to study the origin and cause of coronavirus that have caused pandemics.
Details
Initially, scientists have studied transmission of SARS-CoV-2 from humans to bats and not from bats to humans.

It showed that there was a low risk of potential of transferring of coronavirus to North American bats from humans during winter season.

They also found the chances of transmission to 1 in 1000 if no protective measures are taken. The chances decrease to 1 in 3333 if protective measures are taken.
Importance of studying bats
Bats are important part of research as studies have indicated that they save about $3 billion annually by eliminating pests of agriculture.

They also reduce the need for pesticide use by acting as a natural predator. They are however portrayed as horrific creatures.

Scientists studied various ways through which transmission can happen between humans and bats. The airborne way was the most common medium.

They studied free-tailed bats, little brown bats and big brown bats species as they have physical and behavioural differences and are typical of winter bats studied.