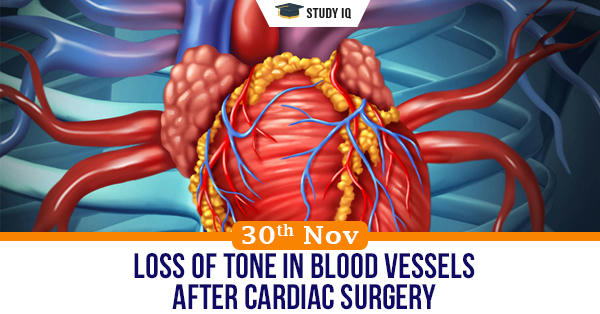 Loss of tone in blood vessels after cardiac surgery
Date: 30 November 2020
Tags: Miscellaneous
Issue
Researchers have come together to study the condition of loss of tone of blood vessels so that it may be predicted early and effective treatment may be given.
Background
Vasoplegia is a condition where the patient exhibits a low blood pressure, even in the presence of normal or increased output of blood from the heart.
Details
When vasoplegia occurs as a complication of cardiopulmonary bypass surgery, there is a chance that it can lead to multiple organ failure and even death.

The researchers measured the circulating counts of endothelial progenitor cells and hematopoietic stem cells at different points in time starting from when the patient was being anaesthetised to until 24 hours after the surgery.

They find that in a statistically significant number of people in the group that showed clinically significant vasoplegia, there was a blunting of the endothelial progenitor cell response.

For non-vasoplegic patients, the level of circulating progenitor cells increases, while for vasoplegic patients, it stays flat or decreases.

The cells were identified by means of expression of specialised cell surface receptors.

Hematopoietic and endothelial progenitor cells play an important role in repair of damaged tissues and inner lining of the blood vessels called the endothelium.

They reside in bone marrow but they come out into circulation to the tissue site where there is an injury.

Vasoplegia syndrome (VS) is rare but can be lethal following heart transplantation. It consists of severe refractory hypotension, metabolic acidosis, and low systemic vascular resistance.