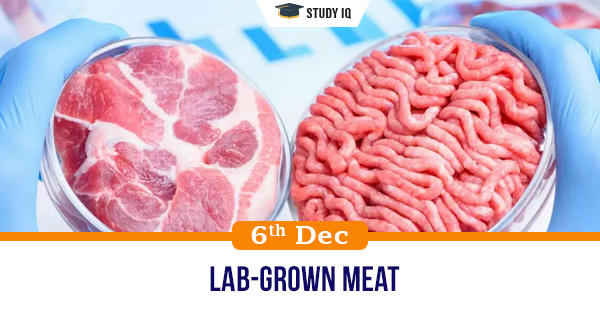 Lab-grown meat
Date: 06 December 2020
Tags: Miscellaneous
Issue
Singapore has become the first country to approve serving of lab-grown or cultured meat in country's restaurants.
Background
Earlier this month, San Francisco based start-up's Eat Just was granted approval for its lab-grown chicken bites.
Details
Lab-grown meat, also known as cultured meat, is meat that is prepared from the regeneration of cell animal cultures, instead of slaughtered animals.

Using techniques typically used during regenerative medicine, scientists use animal cells to 'grow' more cells by feeding them nutrients like salts and sugars in a controlled lab environment.

Once enough muscle fibres have grown, the meat begins to vaguely resemble the animal it was supposed to recreate.

The resulting 'meat' can then be shaped into patties or sausages. These do resemble actual meat in terms of appearance, texture, and even nutrient profile.

Considering the amount of meat consumed globally, companies will need to invest in a lot of land and resources to be able to cater to the mammoth task of feeding all non-vegetarians.
Significance of lab-meat
Lab-meat will effectively eliminate the need to consume so much livestock, resulting in a 46% reduction in energy consumption required for them. Furthermore, it will also reduce water usage.

In addition, the methane gas emission from livestock will be reduced and will help in managing global warming effect.
Mock meat
Mock meat or vegan meat are plant proteins that are processed to resemble meat.
They do not contain any animal fat or animal proteins, unlike lab-grown meat. Mock meat doesn't require any animals at all in the production process and is completely cruelty-free.