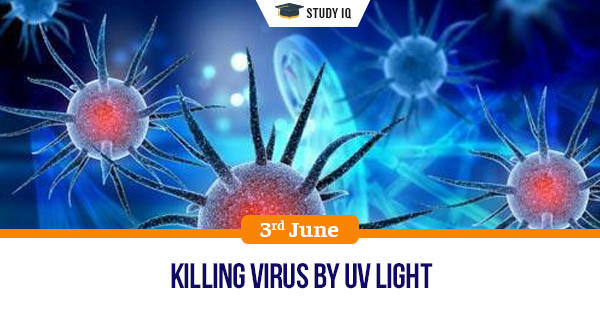 Killing virus by UV light
Date: 03 June 2020
Tags: Miscellaneous
Issue
Researchers have reported that a device that can kill coronavirus by UV light is feasible –which is personal, handheld, and built from a newly discovered class of conductors.
Background
The device uses destructive properties of UV light to target pathogens. It is thus considered effective in disinfecting the air and helps in preventing certain infectious diseases from spreading.
Details
In the broad spectrum of electromagnetic radiation that comes from the sun and which is transmitted in waves or particles, visible light is just one of several regions that are defined based on the wavelength and frequency of these waves or particles.

When these regions are arranged according to wavelength, ultraviolet light comes between visible light and X-rays — that is, the wavelength of UV light is smaller than that of visible light and greater than that of X-rays. The wavelength of ultraviolet radiation is between 10 nanometres and 400 nanometres (1 nanometre is a billionth part of a metre).

Ultraviolet radiation in the 200-300 nanometre range is known to destroy the virus, making it incapable of reproducing and infecting.

Ultraviolet radiation is one of two methods for sanitising and disinfecting public spaces from bacteria and viruses — the other being chemicals.

To disinfect areas from the coronavirus with UV radiation, one needs sources that emit sufficiently high doses of UV light. It requires high power, has a relatively short lifetime, and is bulky.

Researchers figured that the solution to this challenge could lie in a recently discovered new class of transparent conductors that use a material called strontium niobate.

The researchers say this is a critical step towards technology maturation which makes it possible to integrate this new material into UV LEDs at low cost and high quantity.