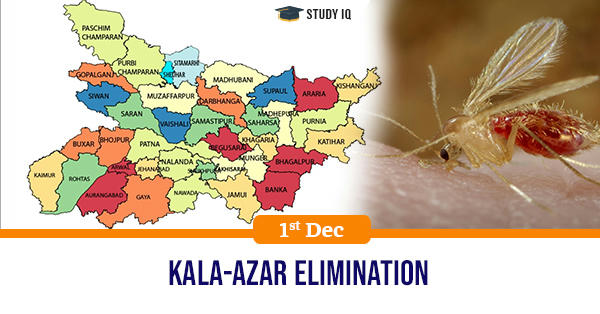 Kala-azar elimination
Date: 01 December 2020
Tags: Miscellaneous
Issue
Kala-azar, a tropical disease has been successfully tackled from some districts of Bihar, which previously had large case load.
Details
Kala-azar or visceral leishmaniasis (VL) is a tropical disease characterised by irregular fever, weight loss, anaemia, and swelling of the spleen and liver.

It is spread by bite of female sandflies. Signs and symptoms include fever, weight loss, fatigue, and anemia.

In various places in the world, different sandflies transmit various Leishmania parasites which cause different variations of kala azar. One part of preventing the disease in India is preventing the insect bite.

A challenge with preventing the insect bite is lack of ecological data and lack of information about the life of the insect.

Ecological information which would predict when and where sandflies live include temperature, rain, wind speed, Relative humidity, soil moisture, pH, and total organic carbon.

Major challenges in eliminating kala azar is lack of access to health care, planning for drug resistance, the absence of a kala azar vaccine, and the difficulty in controlling the insect spreading the infection.

In India, the largest case load exists in Bihar. About 90% of cases are in Bihar and Men are most vulnerable to the disease.