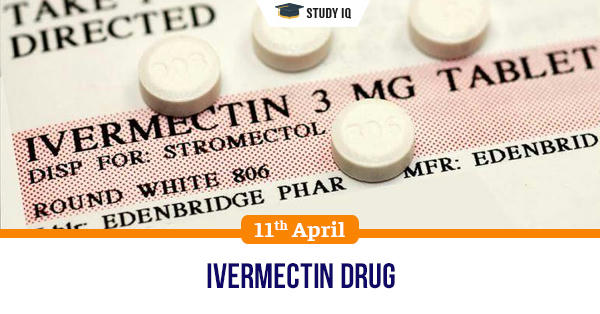 Ivermectin drug
Date: 11 April 2020
Tags: Miscellaneous
Issue
Few scientists testing head lice drug Ivermectin found that it could be possible treatment to kill SARS-CoV-2, the virus that causes COVID-19.
Background
While countries across the world are leaning on Hydrochloroquine, an anti-malarial drug to cure COVID-19, researchers are trying to find other possible drugs.
Details
Researchers says a single dose could remove all viral RNA within 48 hours. The drug which is on the initial stages on testing, is yet to tested on COVID-19 patients.

The drug prevents the replication of SARS-CoV-2. When tested, the virus came to a rest within 24-48 hours after it was exposed to Ivermectin.

Levels of the virus declined by 99.8% in 48 hours and completely within three days. Researchers also say that there was even a significant reduction within 24 hours.

The drug helps in stopping the processes that allow proteins to move within the virus. It has also been proven that Ivermectin tackles other viruses such as HIV, dengue, influenza and Zika replicating, at least in the laboratory.

Ivermectin was developed as a veterinary drug in the 1970s but is now used to treat head lice. It is also effective against parasites that cause other infections.

Another interesting thing to note is, Ivermectin has already been approved by the World Health Organization as an "essential medicine."
Ivermectin
Ivermectin is a medicine used to kill parasites. Used since 1980s, the drug is mainly used in creams and lotions for head lice.

Besides this, it is also used in a tablet form to cure roundworm infection and second-line treatment for scabies and rosacea, a skin condition that results in redness and causes pus-filled bumps on the face.

The drug needs to be consumed with a glass of water on an empty stomach at least an hour before a meal. It is usually taken as a single dose or series of doses, as per the directions of the doctor.

The drug may cause tiredness, loss of energy, stomach pain, vomiting, diarrhea, dizziness, drowsiness and itchiness.

In case of a skin or an eye infection, the medicine may lead to joint pain and swelling, swollen and tender lymph nodes, itching, rashes, fever and eye problems.

Some of the serious side effects include low blood pressure, inability to breathe and can also lead to liver damage.