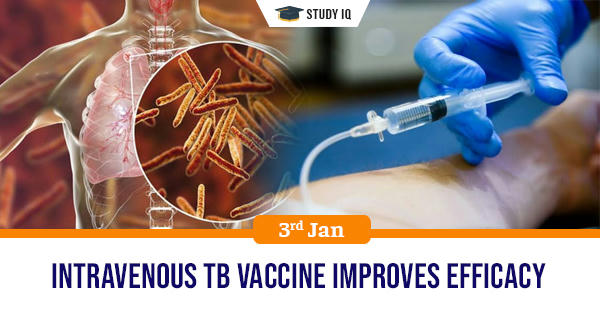 Intravenous TB vaccine improves efficacy
Date: 03 January 2020
Tags: Miscellaneous
Issue
Research has found that intravenous (IV) injection of the Bacille Calmette-Guérin (BCG) vaccine provides almost 100 percent protection against Tuberculosis (TB) bacteria and concurrent lung inflammation in monkeys.
Background
BCG is a commercially available human TB vaccine made of a live, weakened form of TB bacteria found in cattle. BCG is among the most widely used vaccines in the world, but its efficacy varies widely and contributes to the high death rates associated with TB.
Details
Mycobacterium tuberculosis (Mtb) is the leading cause of death from infection worldwide1. The only available vaccine, BCG (Bacillus Calmette–Guérin), is given intradermally and has variable efficacy against pulmonary tuberculosis, the major cause of mortality and disease transmission

Researchers discovered that intravenous TB vaccination is highly protective against infection in rhesus macaques compared to the standard injection directly into the skin, which offers minimal protection.

Moreover, intravenous immunization induced a high frequency of antigen-responsive T cells across all lung parenchymal tissues.

Monkeys that received the standard human dose all had persistent lung inflammation and the other injected and inhaled vaccines offered similarly modest TB protection.

The reason the IV route is so effective is that the vaccine travels quickly through the bloodstream to the lungs, the lymph nodes and the spleen and it primes the T cells before it gets killed.

The researchers plan to continue to develop their findings by testing whether lower doses of IV BCG could offer the same level of protection without the side effects.