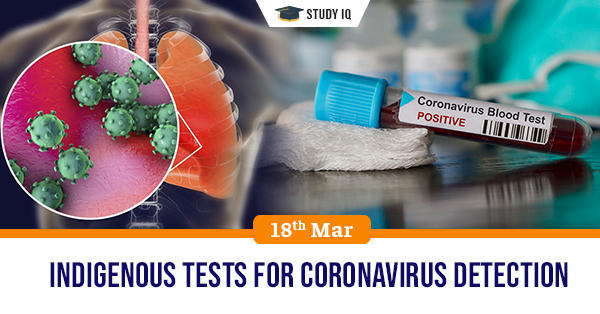 Indigenous tests for Coronavirus detection
Date: 18 March 2020
Tags: Miscellaneous
Issue
Two diagnostic tests for coronavirus (COVID-19), the first to be developed entirely in India, are currently being evaluated by the National Institute of Virology (NIV) in Pune.
Background
All companies including the ICMR themselves currently rely on multinational companies for their diagnostic test kits.
Details
The government said it was readying guidelines for private diagnostic companies to develop tests to detect the SARS-CoV-2 virus, which is responsible for the disease.

To accelerate development of drugs and diagnostics, the government will be forming a Rapid Response Regulatory Framework to rapidly evaluate potential diagnostic kits and vaccines against COVID-19.

The ICMR has maintained that India now has 120 facilities where tests can be undertaken and that barely 10% of the capacity was being utilised.

Its own tests had so far revealed no evidence of community transmission, when the virus begins to spread rapidly in the country and it's no longer possible to trace positive cases to those with a travel history to affected countries or links to their contacts.

However, there have been reports of patients, showing symptoms of the disease, showing up at hospitals and testing centres and being turned away.