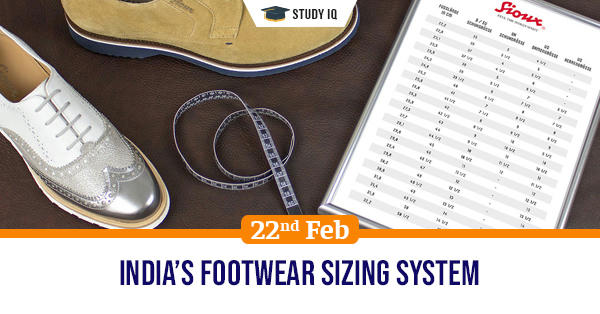 India's Footwear Sizing System
Date: 22 February 2021
Tags: Miscellaneous
Issue
India could have its own 'Footwear Sizing System', which may remove some of the confusion involved in buying shoes of 'EU', 'UK' or 'US' sizes.
Background
CSIR-Central Leather Research Institute (CLRI) will lead a pan India feet scanning survey, data from which will be used to define Indian footwear size standards.
Details
India has never had its own footwear sizing system. The British introduced English sizes before Independence, which are followed still.

Manufacturers size footwear according to the English system, with charts mentioning the equivalent European and American sizes.

According to this UK system, the average Indian woman wears footwear sizes between 4 and 6, and the average man between 5 to 11.
Need for sizing system
Optimal comfort and foot health can be expected only with appropriately sized footwear. Bad fits can cause injuries, more so in those above age 40, women, and diabetics.

Footwear designed on a borrowed sizing system may not always suit the requirements of the Indian wearer, whose feet characteristics are different that of Europeans or Americans.

Back in 1969, the Bureau of Indian Standards (BIS) had notified the Indian Standard Specification for Sizes and Fitting of Footwear (IS 1638-1969). The characteristics of Indian feet have changed since.

India's vastness and regional variations makes it difficult to standardise footwear sizes. People from the Northeast have comparatively smaller feet, and overall, the feet of Indians are broader near the toes, so they prefer a size bigger than actually required.
Footwear sizing project
CLRI will lead a first-of-its-kind pan Indian anthropometric survey that will include 3D foot scans and measurement of feet.

The survey will collect data that will be used to design a footwear sizing scheme based on Indian requirements, trace ethnic differences if any, determine characteristic age and size groups with special requirement.

Survey teams will travel to identified schools, offices, groups of households, CSIR labs, and defence institutions.

The sizing scheme is expected to be ready by early 2022. Given fast changing lifestyles, walking styles, and footwear requirements similar anthropometric surveys may be needed every 7-8 years going forward.
Effects
Footwear makers will have to prepare shoe lasts per the Indian sizing system. They will have to provide a chart indicating the Indian equivalent of international sizing schemes.

This will also mean that international manufacturers wanting to sell their products in India will have to manufacture shoes as per Indian sizing requirements.