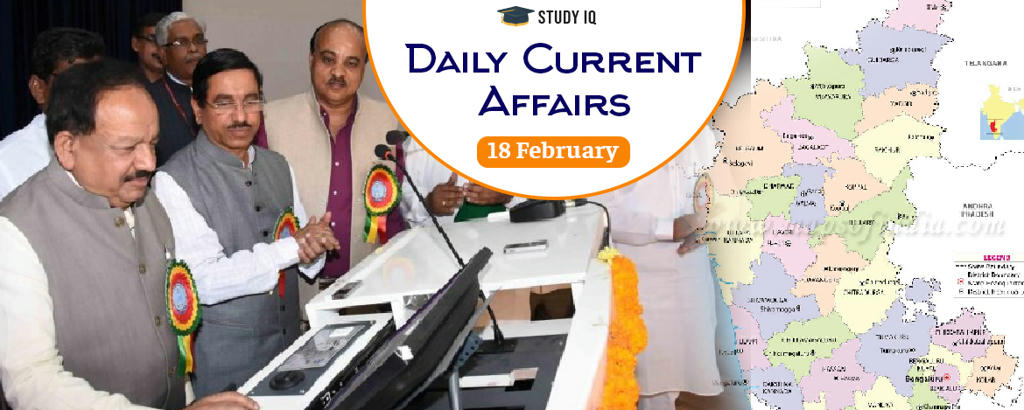 India's first Agromet Forecast Centre inaugurated in Karnataka
Date: 18 February 2019
Tags: Miscellaneous
India's first agromet forecast centre- North Karnataka Agromet Forecasting and Research Centre (NKAFC) was recently inaugurated on University of Agricultural Sciences (UAS) campus in Dharwad, Karnataka. This centre will directly give timely information on weather conditions to farmers. It will help to contain extreme weather and climatic events by providing accurate information on weather to farmers.
North Karnataka Agromet Forecasting and Research Centre (NKAFC)
It has been established by Union Ministry of Earth Sciences and India Metrological Department (IMD), in association with UAS, Dharwad.

It will conduct observations, forecast, research in agro-meteorological to enhance capacity building in agro-meteorological services in Karnataka.

It is aimed at minimizing damage to crops due to vagaries of nature by offering timely information on agro-climatic conditions to farmers, particularly in seven districts in North Karnataka.

It will disseminate taluk-wise information about weather condition for next five days, crop pattern, method of harvesting different crops, new technology and other methods to yield better results.

The information decimated by this centre will help farmers prepare fields for sowing, harvesting, protecting crops from pest attacks, drought and floods.
Background
Due to rise in frequency and intensity of extreme weather and climatic events such as droughts, floods, cyclones, heat stress, hailstorms, unpredictable change in pest and disease load under changing climate, farmers and farming systems have become more vulnerable to vagaries of nature. More than 80% of Indian farmers are marginal and small farmers with poor coping capacity who are affected worst by these extreme weather and climatic events.