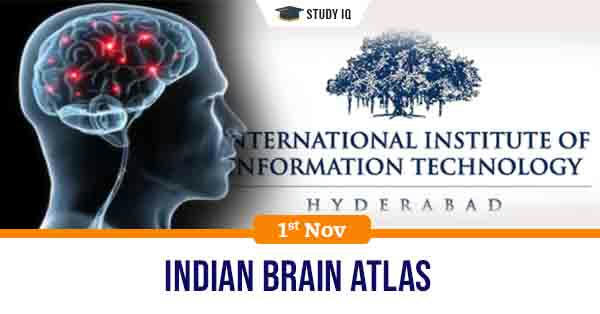 Indian Brain Atlas
Date: 01 November 2019
Tags: Miscellaneous
Issue
'Indian Brain Atlas' created by researchers of the International Institute of Information Technology-Hyderabad (IIITH) has found out that Indian brain is smaller by height, width and volume in comparison to Western and eastern population.
Background
Montreal Neurological Institute (MNI) and International Consortium for Brain Mapping (ICBM) had created the first digital human brain atlas in 1993 and had also released other brain atlases, widely used as a standard in neuroscience studies.
Details
The standard brain templates were created using Caucasian brains and are not ideal to analyse brain differences from other ethnicities such as the Indian population.

The differences are found even at the structure level like the volume of hippocampus and so on. But overall, the 'IBA 100 is more' comparable to the Chinese and Korean atlases than the distant Caucasian one.

IIITH team made a maiden effort at creating an Indian-specific brain atlas involving 50 subjects selected across genders.

MRI scans of these subjects' brains were taken at three different hospitals across three different scanners to rule out variations found in scanning machines.

After a successful pilot study, the team recruited 100 willing participants in construction of Indian Brain Atlas or 'IBA 100'.

Scans collected were from an equal number of healthy male and female subjects 21-30 years age group when the brain is said to be 'mature'. The constructed atlas was validated against the other atlases available for various populations.

With number of aged persons increasing, there are more incidences of Alzheimer's and Dementia.

It is important to understand structurally what is normal too, so as to catch such conditions early on.