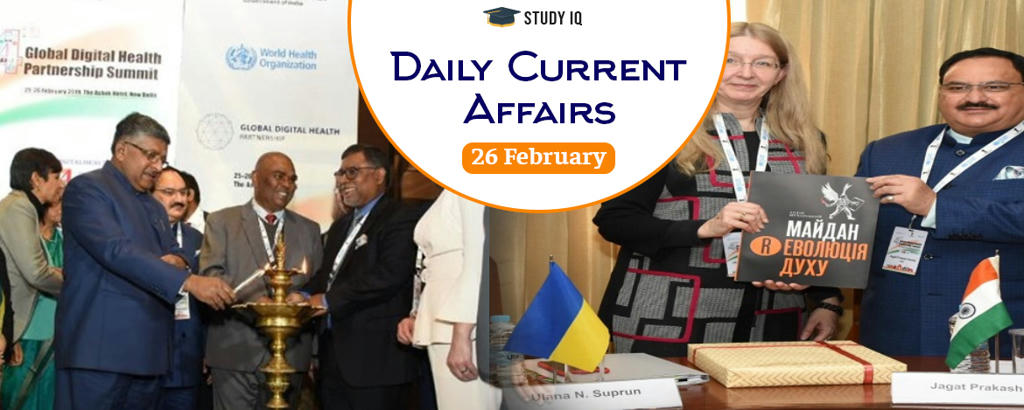 India hosts 4th Global Digital Health Partnership Summit
Date: 26 February 2019
Tags: Miscellaneous
India hosted 4th Global Digital Health Partnership Summit in New Delhi. It was organized by Union Ministry of Health and Family Welfare in collaboration with World Health Organization (WHO) and Global Digital Health Partnership (GDHP). This summit provided common platform to support governments and health system reformers to improve the health and well-being of their citizens through digital technologies.
India and Digital Health
India had led Digital Health Resolution in 71st World Health Assembly of WHO in April 2018 at Geneva. This resolution had highlighted global attention to potential, challenges and opportunities related to Digital Health Technology and need for close collaboration on the issue globally.
Global Digital Health Partnership (GDHP)
It is international collaboration of governments, government agencies and multinational organisations for improving health and well-being of citizens through best use of evidence-based digital technologies.

It is the only international platform with such wider participation on issue of digital health. It facilitates global collaboration and co-operation in the implementation of digital health services.

It provides international platform to share policy insights, best practices and evidence based implementation of safe, secure digital technologies to improve quality, accessibility and sustainability of health systems.

Members:

Currently, 23 countries including India are its members. It is supported by World Health Organization (WHO).

Five work streams of GDHP:

(i) Cyber Security, (ii) Evidence and Evaluation (iii) Policy Environments (iv) Interoperability and (v) Clinical and Consumer Engagement.