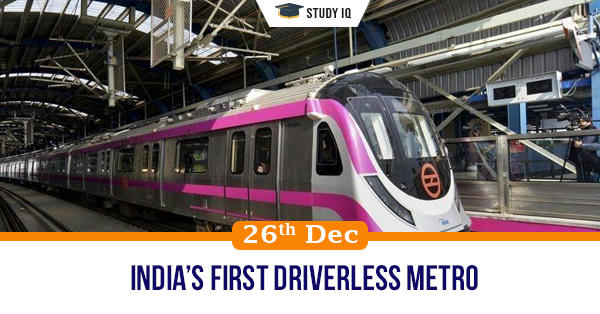 India's first driverless metro
Date: 26 December 2020
Tags: Miscellaneous
Issue
Prime Minister Narendra Modi is scheduled to flag off the country's first 'driverless' metro in Delhi, marking a new milestone.
Background
Since 2002, Delhi Metro has also made several technological leaps in terms of operating trains, and the transition to 'driverless' mode is the latest in the series of changes over the last 18 years.
Details
The Centre has also notified changes in the Metro Railways General Rules, 2020 as the previous norms did not allow driverless services.

The level of control that the drivers or train operators have over trains varies from line to line. The driverless train operation (DTO) or unattended train operation (UTO) modes can be implemented only on Line 7 and Line 8 of the DMRC network.

Trains are mostly remotely controlled from the command rooms of the DMRC known as Operations Control Centre (OCC), from where teams of engineers track and monitor in real time train movement across the DMRC network.

On certain stretch, drivers are in complete control of trains, starting from speed, opening and closing of doors.

The target speed is, however, decided by the Automatic Train Protection (ATP) system, which means drivers cannot run trains above a certain limit.

In Automatic Train Operation (ATO) mode, drivers only press the departure command after closing doors at every platform.

But the ATO mode is occasionally switched off even on these lines and drivers are made to run trains manually so that they remain prepared to intervene in case of emergencies.

Under the plan, images of tracks and overhead wires, from which trains draw power, transmitted to the OCCs shall be continuously analysed and corrective action taken immediately in the event of any abnormality.