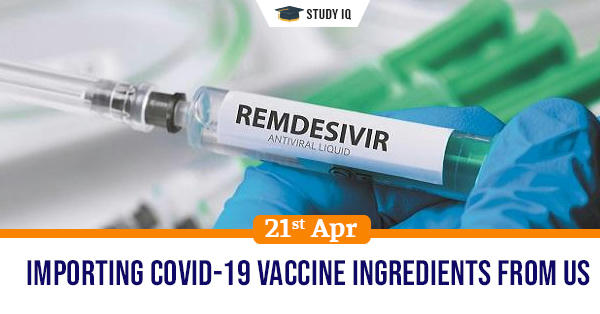 Importing Covid-19 vaccine ingredients from US
Date: 21 April 2021
Tags: Miscellaneous
Issue
Vaccine manufacturers in India have urged US President Joe Biden to lift the ban on export of raw materials needed for increasing production of Covishield and Covaxin vaccines.
Background
Vaccine production increase is the need of the hour as many states have been facing shortages and positive cases are also increasing.
Details
President Biden has invoked the US Defense Production Act earlier this year to block exports of critical raw materials that are used in the production of some Covid-19 vaccines.

The Act was introduced in 1950 to ensure that supplies and equipments are available during the Korean War. Its scope now extends beyond military to include natural hazards, terrorist attacks and other emergencies.

The act also allows the President to incentivise the domestic industry to speed up supply of important goods and materials.

While there are many raw materials used in vaccine production, some of them are available in large scale only in the US.

This means that vaccine manufacturers cannot scale up their production without getting enough raw materials from US.

US is not the single source of raw materials but tweaking supply chains will need change in regulatory approval from authorities.
Motive of the Act
The administration has been using the act to ensure supplies of raw materials crucial to production and supply of Pfizer and BioNTech vaccines.