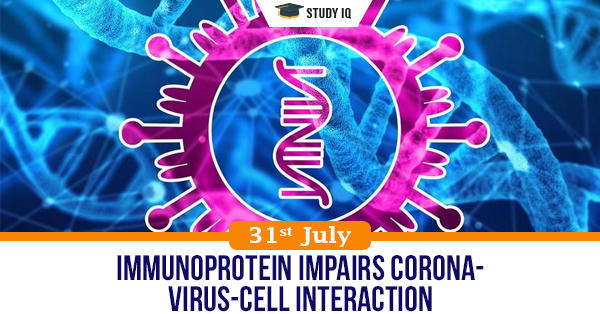 Immunoprotein impairs coronavirus-cell interaction
Date: 31 July 2020
Tags: Miscellaneous
Issue
A new study has found that an endogenous protein called LY6e prevents coronaviruses, including SARS-CoV-2, from fusing with host cells.
Background
The protein is produced by the human immune system. Researchers from Germany, Switzerland have published their findings in the journal Nature Microbiology.
Details
LY6e was discovered in 2017, during research, in order to identify genes that prevent coronavirus infections.

Since then, further investigations have shown that the protein exerted this inhibitory effect on all analyzed coronaviruses.

This was validated in an animal model. Mice lacking Ly6e in immune cells were found highly susceptible to a normally non-lethal mouse coronavirus and succumb to infection.

The experiments conducted there led to the discovery that the mouse variant of the protein called Ly6e is crucial for the protection of immune cells against infections.

In the absence of Ly6e, immune cells such as dendritic cells and B-cells become more susceptible to infection and their numbers decrease dramatically.

The researchers point out that the mouse coronavirus used in the experiment differs significantly from the pathogen causing the current Covid-19 outbreak - for example, it causes hepatitis rather than respiratory disease.