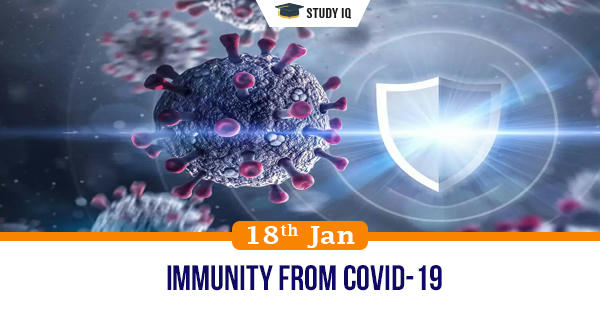 Immunity from Covid-19
Date: 18 January 2021
Tags: Miscellaneous
Issue
A new study says that people infected with COVID-19 in the past are likely to be protected against re-infection for several months.
Background
The duration of immunity to Covid-19 has been a subject of research through the pandemic, and studies so far have provided various results.
Details
The longevity of immunity against a disease varies from disease to disease and one of the factors influencing this is the amount of neutralising antibodies produced by the infected person.

Experts have warned that even people with immunity may still be able to carry the virus in their nose and throat and therefore have a risk of transmitting it to others.

They have suggested that individuals who have acquired the disease and recovered from it continue to take all precautions such as wearing masks, regularly washing their hands, and maintaining a distance of at least two metres from others.
Findings
Researchers have been testing tens of thousands of healthcare workers since June for COVID-19 infections as well as the presence of antibodies.

Two probable cases of re-infections reported having experienced COVID-19 during the first wave of the pandemic but were not tested. These two patients reported having less severe symptoms the second time.

None of the 44 potential re-infections were tested using PCR during the first wave, but tested positive for antibodies subsequently.

Scientists have concluded that naturally acquired immunity as a result of past infection from the SARS-CoV-2 virus provides 83 per cent protection against re-infection, compared to people who have not had the disease before.

This protection appears to last for a period of five months from the time that the person first became sick from COVID-19.