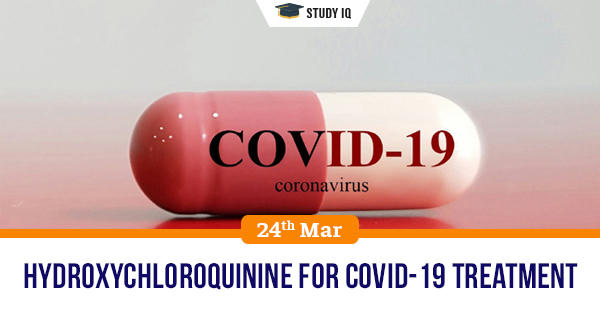 Hydroxychloroquinine for COVID-19 treatment
Date: 24 March 2020
Tags: Miscellaneous
Issue
Hydroxychloroquine, a drug that has existed for several decades, could see a resurgence of demand, after the Indian Council of Medical Research (ICMR) recommended its use as a preventive medicine against the novel coronavirus disease.
Background
Hydroxychloroquine (not to be confused with anti-malaria drug chloroquine) is an oral drug used in the treatment of autoimmune diseases such as rheumatoid arthritis. Last week, US President Donald Trump had said a hydroxychloroquine-azithromycin combination could be a "game changer" in the fight against COVID-19.
Details
The drug shows antiviral activity in vitro against coronaviruses, and specifically, SARS-CoV-2. Pharmacological modelling based on observed drug concentrations and in vitro drug testing suggest that prophylaxis with hydroxychloroquine at approved doses could prevent SARS-CoV-2 infection and ameliorate viral shedding.

The US Centers for Disease Control and Prevention (CDC) says: Hydroxychloroquine is currently under investigation in clinical trials for pre-exposure or post-exposure prophylaxis of SARS-CoV-2 infection, and treatment of patients with mild, moderate, and severe COVID-19.

The CDC says both hydroxychloroquine and chloroquine have in vitro activity against SARS-CoV, SARS-CoV-2, and other coronaviruses, with hydroxychloroquine having higher potency against SARS-CoV-2.

The National Taskforce for COVID-19 has recommended hydroxychloroquine for prophylaxis in case of asymptomatic healthcare workers involved in the care of suspected or confirmed cases of COVID-19 and asymptomatic household contacts of laboratory confirmed cases.

While the roles of chloroquine and hydroxychloroquine in management of COVID-19 are still open questions for the scientific community, the azithromycin-hydroxychloroquine combination is part of an upcoming multicountry trial anchored by the WHO in the fight against COVID-19.