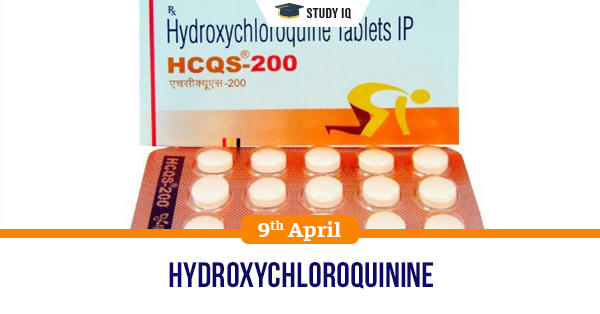 Hydroxychloroquinine
Date: 09 April 2020
Tags: Miscellaneous
Issue
The government has decided to ease its ban on the export of hydroxychloroquine, a drug that has garnered global interest in the treatment and prevention of COVID-19.
Background
US President Donald Trump tweeted about "retaliation" if India did not heed his request for the drug. India said it would supply to countries that needed it the most, and to neighbours who were dependent on India's capabilities.
Details
It is an antimalarial drug option, considered less toxic than chloroquine, and prescribed in certain cases. Doctors also prescribe hydroxychloroquine for patients of rheumatoid arthritis and lupus.

Hydroxychloroquine had a market size of only around Rs 152.80 crore in the 12 months ended February 2020. However, several countries source the drug from India.

In a study last month in the International Journal of Antimicrobial Agents (IJAA), French scientists reported that the patients treated with the drug showed a significant reduction of the viral carriage compared to controls, and much lower average carrying duration than reported of untreated patients. Azithromycin (an antibiotic) added to hydroxychloroquine was significantly more efficient for virus elimination.

The Indian Council of Medical Research (ICMR) had issued an advisory recommending the use of hydroxychloroquine in asymptomatic healthcare workers treating COVID-19 patients, and also allowed doctors to prescribe it for household contacts of confirmed COVID-19 patients.

Large trials are under way on the effectiveness of hydroxychloroquine, and even chloroquine, in COVID-19 treatment. In the World Health Organization (WHO) solidarity trial, of which India is a part, clinicians worldwide are to follow a common protocol to treat patients with hydroxychloroquine.