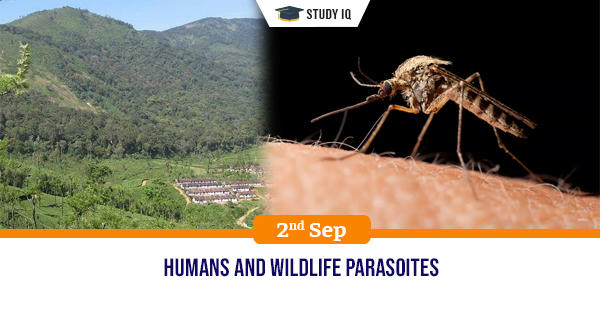 Humans and wildlife parasoites
Date: 02 September 2019
Tags: Miscellaneous
Issue
A new research has now pointed out that by changing the land use patterns and introducing livestock in their ecosystem humans are indirectly increasing the parasite diversity in their gastrointestinal system.
Background
Parasitism is a relationship between species, where one organism, the parasite, lives on or in another organism, the host, causing it some harm, and is adapted structurally to this way of life.
Details
The team looked at over 4,000 mammalian faecal samples collected from 19 forest fragments at the Anamalai Hills of the Western Ghats.

Analysing the faecal samples, they concluded that the presence of plantations and livestock significantly increased the parasite diversity.

These samples belonged to 23 mammalian species including tigers, deer, porcupines, lion-tailed macaques, giant squirrels and otters.

The studied parasites can cause a broad range of infectious diseases and it is important to study the host-parasite interactions at a community level.

Studies have shown that wildlife tends to congregate near human settlements. Herbivores such as deer may find the human settlements as a source of regular food and also as a safe zone where carnivores don't enter. This could also be a reason for pathogen spillover from livestock to wildlife

As internal niche is affected, many epidemic diseases including the Ebola virus started finding humans as a better new host when their natural habitats were disrupted. Unknown diseases have occured as a result of this anthropogenic land use changes.