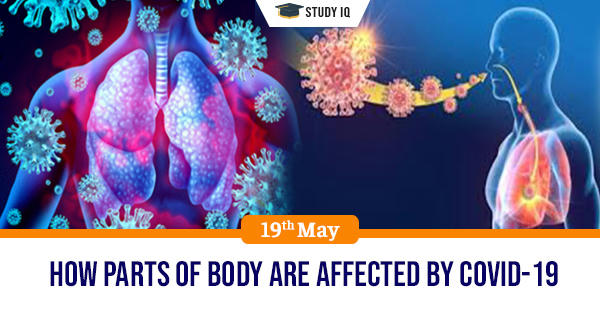 How parts of body are affected by COVID-19
Date: 19 May 2020
Tags: Miscellaneous
Issue
While fever, cough and difficulty in breathing are some of the most common symptoms of COVID-19, the disease has been known to affect different parts of the body.
Background
There have been reports that the disease may overstimulate the immune system and lead to a cytokine storm, and in some other patients, doctors noticed a swelling on their patients' toes.
Details
It is still not clear why some individuals infected with the disease remain asymptomatic, while there are others who develop mild or moderate symptoms and some who get critically ill and succumb to the disease.

It is well known that while people of all age groups are susceptible to the disease, those above 60 years of age and with co-morbidities are especially vulnerable to it. Even so, there have been reports of some young people, including teenagers, also succumbing to the disease.

Earlier in April, research suggested that the disease might induce what is known as a "cytokine storm" in some patients. Such a storm is characterised by the overproduction of immune cells and cytokines themselves, which can be harmful since an excess of immune cells can damage the healthy tissue.

Ideally, once the immune system is triggered after the body is infected by a pathogen, the immune cells will reach the site of infection or injury and start the repair. But in case of a CSS, the excess of immune cells start to damage the healthy tissue as well.
Various effects
Some cases of the so-called "Covid toe" were reported from Spain and the US earlier this month. The skin condition is characterised by purple, blue or red discolouration of the toes and sometimes even the fingers.

A rare illness causes inflammation of the blood vessels, which leads to low blood pressure. It affects the entire body as it causes a build-up of fluid in the lungs and other organs and the condition is similar to Kawasaki disease, which is an acute inflammatory disease of the blood vessels and occurs in children below the age of five.

Researchers concluded that neurological symptoms were seen in a "notable proportion" of hospitalised Covid-19 patients studied in Wuhan.

Research has found that among 412 Covid-19 patients admitted to a single health facility, bowel abnormalities were seen in 31 per cent of CT scans taken for 3.2 per cent of the patients and the presence of such abnormalities was more frequent in ICUs.