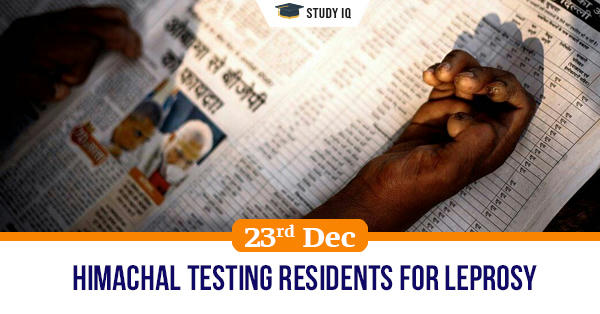 Himachal testing residents for leprosy
Date: 23 December 2020
Tags: Miscellaneous
Issue
Health workers in Himachal Pradesh are screening the state's entire population for symptoms of leprosy.
Background
The 'Him Suraksha Abhiyan' was launched on November 24 to screen the population for Covid-19, tuberculosis and leprosy.
Details
The WHO resolved to globally eliminate leprosy as a public health problem and bring down the number of cases to less than one per 10,000 by the year 2000.

India declared this elimination status in 2005. Himachal attained the status in 2002, and since then, the prevalence rate has been less than one in 10,000.

The national leprosy eradication programme is being implemented in Himachal under the National Health Mission.

ASHA workers try to detect new cases at an early stage by screening people from house-to-house and referring suspected cases to a medical officer.

Diagnosis is generally done after confirming a definite loss of sensation in a pale or reddish skin patch on the body, or in some cases by using the slit-skin smear examination.

Based on the number of skin lesions and other symptoms, leprosy is classified as paucibacillary and multibacillary, the latter being more severe.

The disease is cured by multi-drug therapy, which consists of a three-drug regimen and is provided to patients in blister packs.

The treatment is six months long in case of paucibacillary and lasts a year in case of multibacillary leprosy.
Leprosy
Leprosy, also known as Hansen's Disease, is a chronic infectious disease caused by Mycobacterium leprae.

The disease mainly affects the skin, the peripheral nerves, mucosal surfaces of the upper respiratory tract and the eyes. Symptoms may occur within a year but can also take as long as 20 years or more to occur.

Leprosy is known to occur at all ages and is curable. Treatment in the early stages can prevent disability.

Its mode of transmission has never been fully understood, and is likely transmitted via droplets, from the nose and mouth, during close and frequent contact.